Meet me at midnight
Are you ready for Taylor Swift's new album? Here's everything you should look forward to.
As many Swifties know, Taylor Swift doesn't know how to stop writing—now, she doesn't know how to sleep. While concluding her Video of the Year acceptance at the 2022 VMAs, Swift broke the internet by informing the world that her tenth studio album, Midnights, will be dropping on October 21st, midnight EST. Although we need to wait a month for the release, here is what we know so far.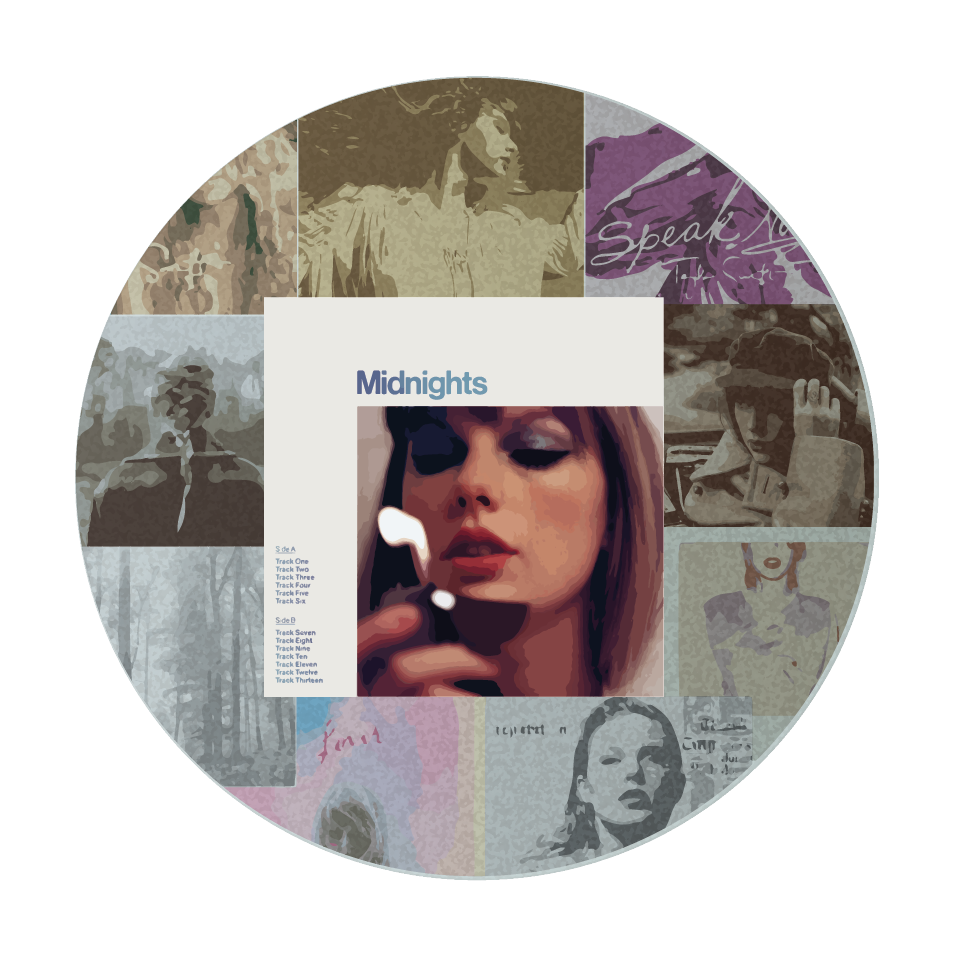 It has 13(ish) tracks.
The album is set to have thirteen original tracks, with a bonus track and two remixed tracks on the Target-exclusive vinyl. Via Instagram, Swift expressed that this collection of songs represent "13 sleepless nights scattered throughout [her] life." While many fans speculated the actual genre of the album—pop, alternative, country, or even rock—iTunes confirmed that Midnights is going to be a pop album.
 It's going to be vulnerable.
Swift posted a short description of what to expect from the content of Midnights, and let me just say, we'll all be entering our "Sad Girl Autumn" era this fall. Based on what she posted, it is safe to say that this may be her most personal and emotional work. "We lie awake in love and fear, in turmoil and in tears," she starts off in her announcement displayed across a photo from the album's photoshoot as she sits mysteriously in a dark room. She continues, "this is a collection of music written in the middle of the night, a journey through terrors and sweet dreams… The floors we pace and the demons we face. For all of us who have tossed and turned and decided to keep the lanterns lit and go searching—hoping that just maybe, when the clock strikes twelve…we'll meet ourselves." Chills? Good, me too.
The vinyl collection is immaculate.
If you didn't know, Taylor Swift comes back stronger than a 90's trend. So when sketching out the Midnights era, she designed not only one iconic vinyl, but four—one being the exclusive to Target. Days after the album announcement, she made four vinyls available to purchase. Titled Midnights: Jade Green Edition Vinyl, Midnights: Blood Moon Edition Vinyl and Midnights: Mahogany Edition Vinyl, each have an alternate cover photo from the album photoshoot in addition to different colored lettering. Many fans began to speculate whether Swift was hinting at the next re-recording since each disk color represents a color from a non-recorded album. While this is probably a reach, it wouldn't be uncommon for Taylor Swift to do something like this at the beginning of a new music era. Although there is much to come, we Swifties are being fed at the moment. You better tell your favorite artists to reschedule any upcoming releases or announcements because no one can dethrone Swift, not even Kanye West. I personally cannot wait for the release of Midnights!
Be there October 21, 12 A.M.
Leave a Comment