Lunch with a price tag
Learn about how changes in lunch price will impact LMSD families.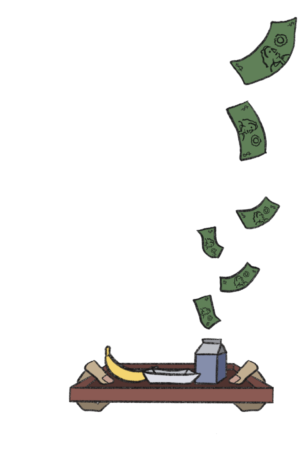 Each school day, when the bell signaling the start of Lunch and Learn rings, hundreds of LM students rush to the cafeteria to
pick up a school lunch. While the pizza slices, hoagies, and chicken tenders still have the same taste, there is a big difference as students approach the checkout line. Before going to find their friends and enjoy their food, this year, students actually have to pay for their school lunch.
For the past two years, due to the continuing impact that the COVID-19 pandemic left on schools, the federal government started the Free Lunch Program to provide healthy lunches to students at no cost. As families in LMSD and throughout the country struggled due to the pandemic, the Free Lunch Program acted as a significant aid to support families economically and
ensure every student could fuel their day with a school meal. However, on June 30, the government made an official announcement that the pandemic-era Free Lunch Program had expired. For LM, this change mostly reflects a return to the nor-mal buying-lunch experience. As in previous years, a LM student lunch costs around $4.40 to $4.50.
Still, the end of the Free Lunch Program has not led to the termination of other government-
supported programs that ensure no student goes hungry during the school day. The program provides meals to students based upon their families' level of need. Additionally, beginning on October 1, all LMSD students will be eligible to receive a free school breakfast as part of Pennsylvania's Universal Free Breakfast Program. Students will be able to receive these free breakfasts before their classes each day until the end of the 2022-2023 school year.
Even though students can no longer receive free lunches each day, it is clear that LMSD is still dedicated to keeping their students well-fueled for their academic and social activities.
Leave a Comment