Sunrise with the seniors
Julia Russel recounts this year's senior sunrise event.
The infamous Senior Sunrise that occurs on the first Friday of the school year was a hit! The few weeks before approaching the big morning were filled with lots of brainstorming and teamwork from the senior class officers, Aiden Friedman, Angela Ge, Mia Locascio,  Julia Russel, and Nolan Shanley. In order to raise money for future events, such as the senior prom, class officers focused on selling baked goods and coffee. With the help of Nolan Shanley, Spread Bagelry donated three-hundred bagels and Starbucks donated coffee, sugar, and cups. September 9 consisted of waking up at 4:30 AM to set up tables on Arnold field which were carefully placed on the track with bagels, donuts, and coffee. By 6 AM, the field was filled with sleepy seniors in cozy sweatpants, holding big blankets. Music was smoothly playing in the background as the sun rose. Smiles, laughter, and the smell of bagels filled the air. Everyone was excited to be up hanging out with friends and acquaintances. Some groups took photos and some fooled around playing soccer. The event was a success!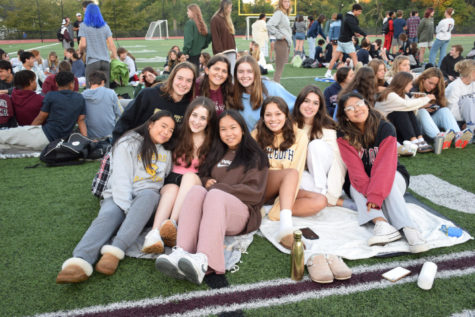 Leave a Comment