Fabulous fall reads
Reviews of newly released novels that are perfect for fall!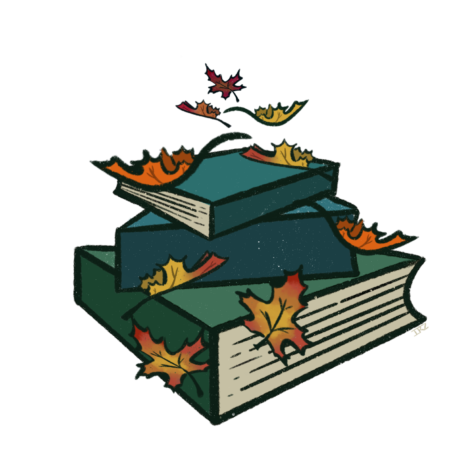 As the air grows crisp and the prospects of going outside to pass time become bothersome, the yearning for a warm drink and good book grows even stronger. Fall time brings the stresses of school, sports, and clubs, leaving many with no time to slow down. Reading is one tool to reduce these stresses and improve mental health. Taking thirty minutes out of your day to block out all other distractions and dive into a fictional world could be the key to managing anxiety. Whether you like a classic story with a twist, a suspenseful page turner, or a novel that will time travel you into another period, there is a book for you. 
Riveting novel Mad Honey, written by Jodi Picoult and Jennifer Finney Boylan, was released October 4. In this new narrative, Olivia McAfee has done everything "right" in life. She went to college, got married, and now lives in the suburbs right outside of Boston. She lives with her brilliant husband who is a surgeon and her son, Asher. Abruptly, her life was upended and she was forced to move back to her New Hampshire home when her husband revealed his dark past. Lily Campanello is a student living with her mom. She has never lived in one area for too long, and she moves to New Hampshire for her senior year of high school. The hardships of love and death dissect these protagonists, testing them to their very core. Those who like a twist to the traditional American life would find Mad Honey hard to put down. 
Suspense, thrill, and crime are just a couple ways to describe Kimi Cunnigham Grant's These Silent Woods. Cooper and his young daughter, Finch, are cut off from the outside world in their remote Appalachian mountain home. For most, this isolation would drive them mad, but for Cooper, he likes to hide. Finch has been born into this isolated world, and her loneliness eats at her as she matures. The only people that know they exist is a local hermit and Cooper's old friend who brings them food each winter. When his friend does not show up one winter, disaster ensues. Suddenly, the isolated bubble that they have been living in was broken and their way of life is threatened. With the threat of their lives, Cooper has to decide to continue his hiding, or face the sins of his past. This book is a page turner and will emerge the reader, making them feel as though they are in these very woods. 
The Marriage Portrait is sure to take the reader into another period of time. Written by the winner  of the National Book Critics Circle Award and Women's Prize, Maggie O'Flarrell developed an exhilarating  story set in Renaissance Italy. In the 1550's Florence lived curious Lucrezia, the daughter of a duke. After the sudden death of her sister, she is forced upwardly in the social ranks and forced to marry a new duke. Feeling like a stranger in her new home, Lucrezia has to cope with her new life and societal pressures to produce an heir. Full of drama, O'Flarrell illustrates this woman's battle to survive in a world filled with rules that limit her choices. 
Any of these books would pair well with a cozy night in and a bowl of warm soup. You will not only be taking a break from staring at your screens, but you will also be improving your mental health.
Leave a Comment