Decorating the rivalry
Read all about Radnor week: a longstanding rivalry, a week of spirit, and an all-school pep rally.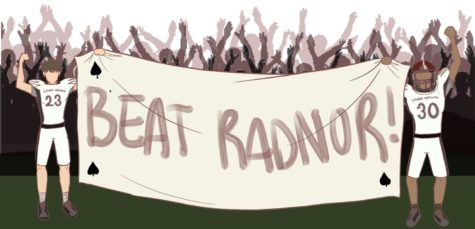 Radnor week is one of the most important weeks at LM. For those who don't know, Radnor week is the week leading up to the annual LM vs. Radnor football game and is filled with lots of fun. The week consists of spirit days, decorations around the halls, lunch-time games, T-shirt sales, a school-wide pep rally, and more! This year's Radnor Week falls from October 31 to November 4, with the rivalry game on Saturday, November 5. Radnor Committee works around the clock to make sure that this is the best week of the year. This year, Radnor Week may look a little different. Avery Bickell '23, Chair of the Radnor Committee, explains that "instead of hallway wars, we decided to do a Halloween themed atrium, which corresponds to Monday's theme, along with Beat Radnor and blackout decorations in the surrounding hallways." On Monday morning, the walls will be covered with "Beat Radnor," Halloween decorations, the score board, and more. Similar to the spirit week in the beginning of the school year, there will be an assigned theme for each day preceding the big football game. There will once again be a school-wide spirit competition where points are given to the most spirited grade. Take a photo, tag @acesnation on Instagram, and get your grade some spirit points! The football game will have a theme of "Beat Radnor" merchandise. Do not worry if you do not have any Beat Radnor gear because this year, the Beat Radnor T-shirts, designed by LM's Philanthropy Committee, will be sold for $10 in the lower atrium everyday leading up to the pep rally. The pep rally is a school wide event that will be held on Arnold Field during school on Friday, November 4. There will be performances from the cheer squad, football team, dance team, the seniors, and even the teachers! Thanks to the LM Socials Committee, videos, posts, and updates will be shared on @acesnation regarding the Radnor Week themes, dates, times, and more! Go Aces and beat Radnor!
Leave a Comment