LM heralds Hispanic heritage
LM honored Hispanic Heritage month in a multitude of ways.
Every year, from September 15 to October 15, the United States recognizes Hispanic Heritage Month to celebrate the history and culture of American citizens with Hispanic ancestors. This past month, LM prioritized celebrating Hispanic Americans both from the LM community and history. Each advisory that was interested in participating in the display was assigned a well-known and impactful Hispanic American and decorated the door in celebration of the figure.
Across the halls, dozens of decorated doors highlighted important Hispanic
figures and their work that often goes underappreciated in regular curriculums.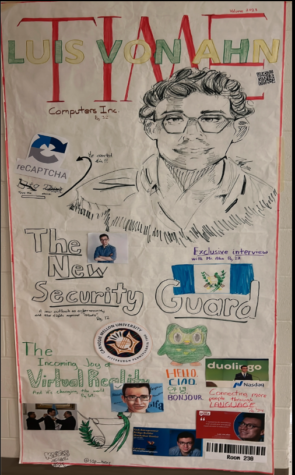 From Dolores Huerta, co-founder of the United Farm Workers Association, to popular singer Bruno Mars, the doors ensured they featured a wide variety of individuals. Spanish teacher Tara Pellegrino, who organized the competition, shares her purpose behind the contest, "The door decorating contest was an opportunity to turn the halls of Lower Merion High School into a colorful mural that celebrates those folks who so rarely make it into our history books."While some were more thoughtful than others, the ini-
tiative to educate students on Hispanic Heritage month is a great start in promoting various cultures. Passing through the hallways, one could not help but notice the colorful representations of the prominent Hispanic figures, often accompanied by facts or critical artifacts from their career.
Outside of the door competition, on the bulletin board by the counseling
offices, many LM individuals had a chance to write about their experiences as Hispanic Americans and on how they typically honor their culture. The hallways presented a balanced mixture of Hispanic Americans at LM and popular figures to try and give a voice to varying experiences. Individual clubs also celebrated Hispanic Heritage month. For instance, Student Council posted a celebratory post on the Aces Nation Instagram. LM Democrats also took to Instagram and posted daily Heritage Highlights, which featured quick facts about Hispanic Americans.
Hopefully, LM will continue to celebrate the diversity of cultures within the community throughout this year, outside of just heritage and history months. Pellegrino concludes "Often in our country, the contributions of minoritized groups are recognized only as tangential, when in reality, they have been fundamental to our success as a nation. We need to start normalizing the accomplishments of Latinos."
Leave a Comment