Scouting for the stars
A BCMS eighth grader soars to become a fully-fledged Eagle Scouts in the Scouts of America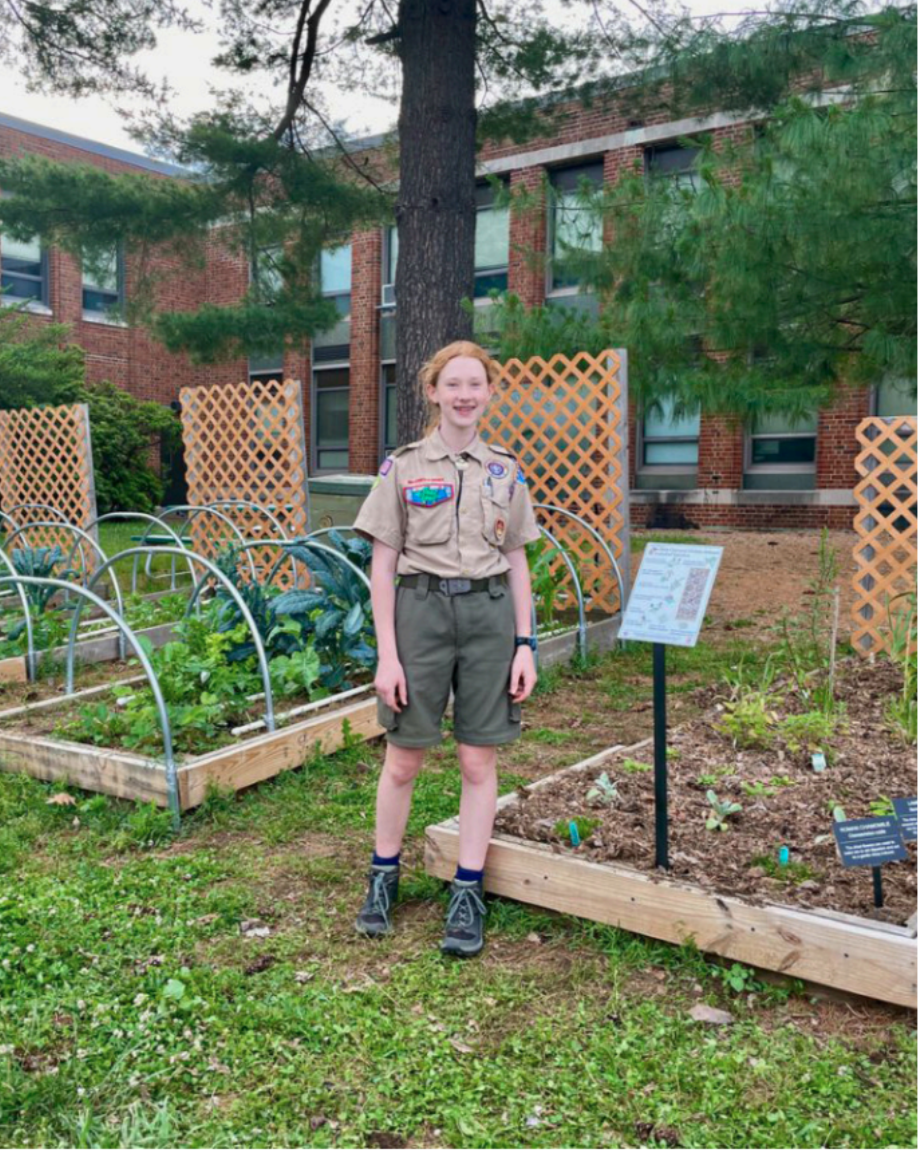 The newly named Scouts of America made a huge shift three years ago to incorporate scouts of all genders in their activities and the rippling effects are still being seen today. The previously named Boy Scouts of America has been a staple in American culture for decades, teaching young boys the importance of adventure, collaboration, and leadership spanning across many fields and disciplines from art to community service to wilderness skills. In recognition of the lack of inclusivity within the Scouts, as female identifying members were directed to the wildly different Girl Scouts–featuring community service and cookie sales–they recently opened their doors to all students regardless of gender. This had a big impact on thousands of girls across the country, ready to sign up to join a "troop" or local chapter.
Sarah Chenoweth, 8th grader at Bala Cynwyd Middle School (BCMS), was among them. Previously, Chenoweth had dabbled in Scout activities via her brother's work with them. "I found it pretty fun, so when girls were allowed, I immediately joined his pack," Chenoweth recalls. Now, Chenoweth is a full fledged Eagle Scout receiving 48 more badges than necessary with a staggering total of 69, while being the first female to do so in the Constellation District, made up of Radnor, Haverford, Marple Newton, and LM.
Chenoweth specifically comments that achieving this status is as much about learning as it is about teaching. She says it's like "learning and showing others what we learned." The importance of education has been a longstanding tradition within the Eagle Scouts, as has leadership. Historically, Eagle Scouts have been seen influencing the nation— from military generals, to Grammy winning musicians. It certainly seems like the preparation to achieve Eagle Status has gotten Chenoweth ready to pursue all that and more. She recalls the most fun of her badges—Metal Work and Sculpture–as well as the most difficult —Personal Management and Personal Fitness. She says it took a lot of self control to keep up with her routines to earn those two badges, "I definitely thought of giving up many times…It was a lot about reminding myself what I needed to do and what I was working towards." Her determination certainly paid off. Beyond her badges, as part of the process to achieve Eagle Status, Chenoweth initiated a project installing scaffolding behind BCMS's plant beds. To her, the project was about giving back to the community, especially to Communiqué, a specialized learning program at BCMS, who supported her in her pursuit. Chenoweth also thanks her parents and troop leaders for their support and encouragement through the process.
While she's incredibly grateful for the opportunity to be in the scouts, it wasn't all smooth sailing. Chenoweth recalls, "There was a little bit of pushback…it was mainly because scouts used to be all boys." She specifically cites the lack of updated documentation that still utilizes exclusive pronouns. She has high hopes for the future though, "Girls are joining every year…at some point, it's probably gonna be equal." She also praises the hard work of her troop leaders and members to make all the girls in her troop feel included. So what's next for the young Eagle Scout? Chenoweth says she's not sure yet but that she plans to continue assisting her troop and continuing with her volunteering and community service. Whatever Chenoweth does, it's clear that she will continue to influence her community. Chenoweth's Eagle status pioneers leadership within the Scouts for young women everywhere in the Constellation District.
View Comments (1)