Stuffing your faces
Jake Stoller '24 shares what he thinks are the most delicious Thanksgiving dishes.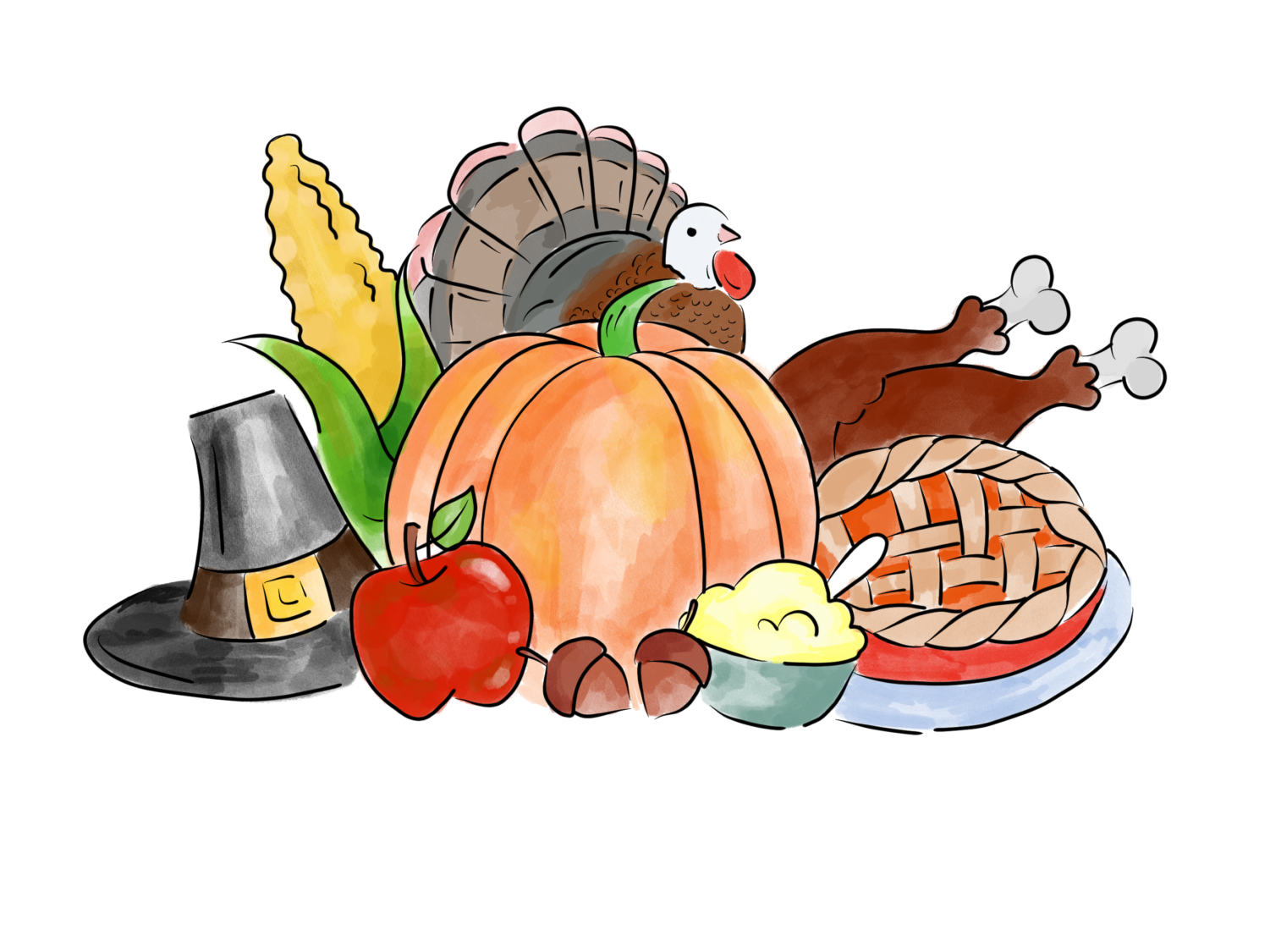 While Thanksgiving primarily encourages Americans to express gratitude and enjoy time with friends and family, it also serves as the perfect excuse to stuff yourself with excessive portions of turkey dinner. However, such a complicated meal calls for particular planning and an inevitably stressful day of cooking. So, if you're short on time this year or opt to scale down this year's Thanksgiving menu, here's a guide on which dishes to keep and which to let go.
7. Brussels sprouts/green beans
Let's be honest. No one sits down at the Thanksgiving table and immediately eyes the green beans or brussel sprouts. Sure, there are ways to elevate average brussel sprouts or green beans, like baking or sautéing them instead of boiling, but there's only so much one can do to mask simply mediocre vegetables. At their best, these bland veggies attract minimal interest and would probably go unnoticed if left out. Needless to say, there are plenty of other dishes that will better complete your turkey dinner. 
6. Pumpkin pie
As soon as the leaves begin to change, every imaginable pumpkin flavored product hits the shelves– a clear indication that fall has arrived. Pie is a perfect example of an area where the pumpkin flavor just doesn't belong. This dessert has a bland, slightly sweet taste that doesn't exactly scream excitement. If you're looking for a cozy seasonal drink at Starbucks, the Pumpkin Spice Latte is a great way to go. However, if you're seeking the
best Thanksgiving pie, keep looking.
5. Cranberry sauce
Easily the most underrated item on this list, cranberry sauce takes the five spot. Some packaged dishes might suffice for your turkey dinner, but there is a substantial difference between homemade cranberry sauce and cranberry sauce from a can. Not only is canned cranberry sauce a gelatinous mess, but it somehow always tastes like the can it came in. Unlike its canned counterpart, homemade cranberry sauce from scratch is a versatile condiment and good on its own too. If you have the time, be sure to consider including cranberry sauce on your Thanksgiving dinner menu, but make sure it's homemade.
4. Apple pie
On the dessert side of Thanksgiving dinner, the classic apple pie is hard to beat. A nicely browned, flakey crust with a sweet granny smith apple filling pleases even the most picky of guests. The dish is simple enough to make and doesn't require too many ingredients, making it a strong candidate for an above average and time-efficient last course. Therefore, apple is without question the superior Thanksgiving pie. 
3. Turkey and gravy
At the heart of any Thanksgiving meal is the turkey and gravy. Thanksgiving without turkey is like Christmas without Santa Claus or Halloween without candy: outrageous and quite frankly, offensive. Arguably more functional than cranberry sauce, gravy completes any decent turkey or mashed potatoes. A traditional Thanksgiving dinner simply can't exist without Turkey and gravy, granting it top three status, but not without room for improvement.
2. Mashed potatoes
Mashed potatoes are the glue that holds Thanksgiving dinner together. The fluffy, buttery dish pairs excellently with turkey and gravy and considerably enhances the dishes surrounding it. Whether your mashed potatoes are flavored with garlic, mashed finely, or left a bit chunky, you can't go wrong. Furthermore, the dish is relatively easy to make and won't overwhelm your shopping list with its ingredients. For these reasons, mashed potatoes take a strong second place.
1. Stuffing
Easily the most flavorful dish of a Thanksgiving dinner, stuffing takes first place. When it comes to stuffing, there is certainly not much room for error. Too little time in the oven and the bread will still be hard. Too much time in the oven and the stuffing will turn mushy and gluey. However, when properly baked, a perfect batch of stuffing outshines any well-cooked bird. Stuffing also stands out as a versatile dish, complimenting any mashed potatoes or turkey and it's delicious when doused with gravy. Despite stiff competition, stuffing's unrivaled taste andsuperior versatility substantiate its claim to the top position on this list.
Whether or not you include stuffing on this year's menu, Thanksgiving has something to offer for everyone. Come this November 24, you can be sure to look forward to some classic football, an extended weekend, and the Macy's Thanksgiving Day Parade in addition to the most widely celebrated feast in all of the United States. No matter how you observe Thanksgiving this year, here's to a day of gratitude, appreciation, and most importantly, outstanding dining.
Leave a Comment