Frosty fashion
As the weather chills, many people struggle to keep their attire sharp. These are some fashion ideas to look out for this winter.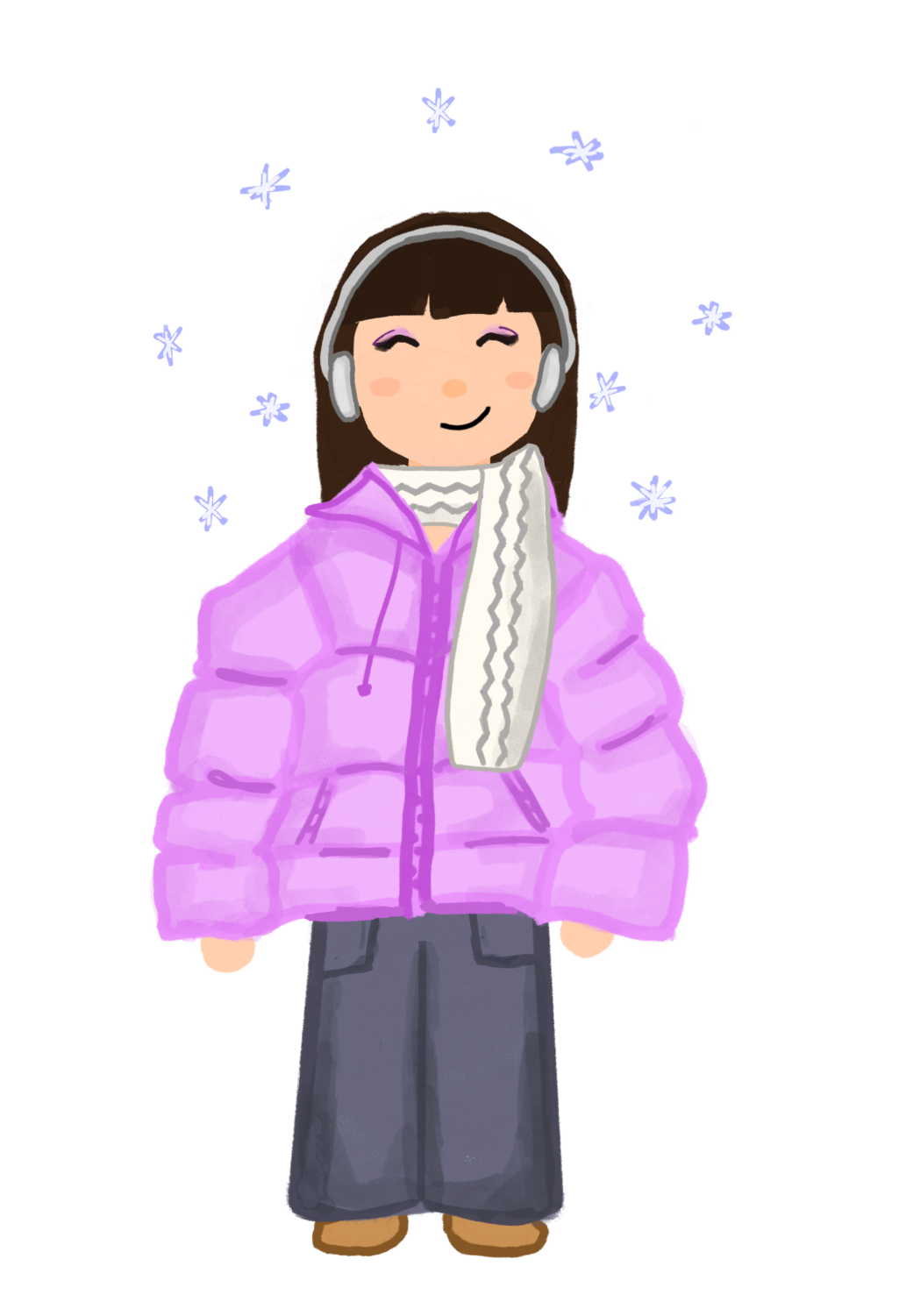 Winter is my favorite season of the year for many reasons. Staying inside and drinking warm beverages, the snow, and most importantly–the fashion. Layering is timeless, but this winter I believe that we'll be observing the following fashion trends:
Huge scarves:
Maybe it's just me, but sometimes at school I'll be so tired during my free time that I'll want to nap. A scarf is the perfect accessory if you're someone like me. It's comfortable, stylish, and underrated. I think this winter we'll see a lot of people wearing comically large checked scarves around their necks. 
Unique "preppy" looks:
As the weather gets cooler, more people start to wear pullovers and sweater vests, but I think this winter will make way for a more unique "preppy" type look. It's already a trend to wear ties with casual outfits (gorpcore) but what if we started wearing crochet ties? Neckties made out of beads? I can already picture people wearing unconventional messenger bags to add on to this studious-esque look.
"Weird" shoes:
I believe that shoes have the ability to make or break an outfit (especially the way in which your pants and shoes interact). These days I've been seeing many people playing it safe but stylish with Adidas Sambas, Reebok Club C or New Balance 550's. But I also believe that this winter many people might come outside their comfort zone just to wear something a
little more..different. Recently, I've been super in love with the design of the Maison Margiela black tabi boot. It's a classic ankle boot with a split in between the toes. I doubt I'll have the money to buy them this winter, but I'm so in love with the design I can't help but look at other split-toe shoes such as the white Nike Air Rifts. I also feel like many people will be seen wearing incredibly tall platform trainers and combat boots.
Subtle cosplay:
Have you ever loved a movie so much that you wanted to reenact certain outfits from it? Maybe you saw Chungking Express (dir. Wong Kar Wai) or any other Wong Kar Wai film and completely fell in love with the character's unique and classy style. I think this winter we'll definitely see a lot of people casually dressing up based on movies or shows they love. There's no need to spend money on this trend either. It's easy to copy a color palette, or maybe just a few layering choices a character made. I'm definitely going to do this.
It's almost a given that winter fashion will not be confined to these 4 trends, however, I definitely think they're going to be in-style based on popular movies and past trends. Use this winter to develop your style, layering skills, and personal color palette. 
Leave a Comment