Blue Rev
Alternative rock band Alvvays finally released their long awaited album. Read here to find out about Blue Rev.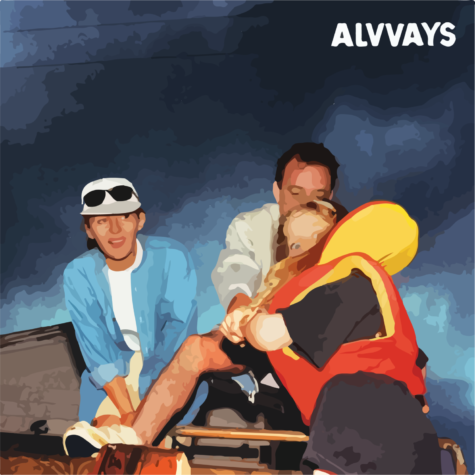 Just as the acclaimed Canadian alternative rock band Alvvays began to make significant progress on their third full-length album, a burglar broke into singer-songwriter Molly Rankin's apartment and stole tapes of demos containing new songs. The loss of the demos proved a potent obstacle for the band, whose upcoming album had already experienced delays from the pandemic and the relentless touring that preceded it. 
Half a decade passed between the release of their sophomore album Antisocialites in September of 2017 and that of Blue Rev in October of 2022. Seasons changed, a pandemic affected millions across the globe, a violent mob stormed the U.S. Capitol, I moved twice, and through it all, Alvvays released no new music. I worked incessantly to fight off the growing fear that a new album might never come.
Blue Rev–the band's third album–is its strongest to date, honing the group's signature lush, sprawling melodies against a grunge backdrop. Alvvays hail from Charlottetown, the capital city of the relatively remote Prince Edward Island, just off the coast of Nova Scotia. The band's distinct background informs the songs on Blue Rev (whose title stems from the drink Rankin still associates with her childhood there), encompassing feelings of longing, regret, and anger pent up beneath propulsive guitars. Songwriter Molly Rankin cited short story author Alice Munro as a crucial inspiration, noting her ability to say "more with less" and to "knock the wind out of you in a very short period of time," something she characterized as her ultimate goal as a songwriter.
Each song off of Blue Rev feels as though it could stand as a short story, not only through the specific, evocative lyrics, but also through the alternating calm then rush of sound that distinguish each song from the next. Lead single and album opener "Pharmacist" builds up to a rush of distortion, capturing the bittersweet nostalgia of the narrator's return home. The palpable energy of consecutive "Easy On Your Own?" reflects a burning plea to escape the endless loop of "crawling in monochromatic hallways" and "dream[ing] about burning down all day." It illustrates days marred in loneliness and restlessness that manifest themselves in the form of a simple but nagging question of whether things will ever get easier. A similar sense of impatience and yearning becomes cathartic on "Bored In Bristol," while "Pomeranian Spinster" follows its dog-loving, people-agnostic protagonist in a whirl of noise and vivacity to a similar theme of entrapment in some inescapable cycle of "taking your foot off the break."
Alvvays' Blue Rev loses nothing from its delay. The album is consistent and evocative, designed to be played at top volume with headphones while waiting in traffic on the bus. Blue Rev infuses hope, magic, and emotion into mundane frustration and regret.
Leave a Comment