Midnights
Taylor Swift continues to wow fans with her TENTH studio album: Midnights.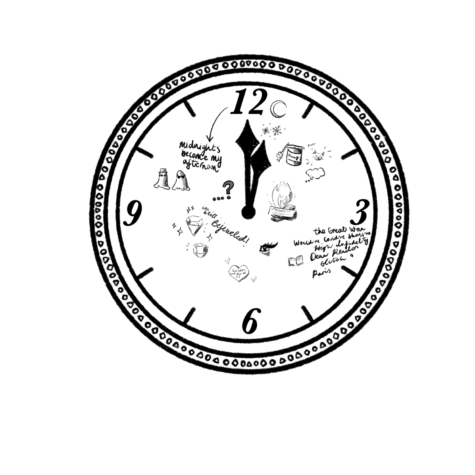 Taylor Swift has broken the internet. Once again. The pop icon's tenth studio album officially returns to the genre she left and explores a beloved topic: how she is perceived by the media, her enemies, her lover, and herself. Reflection, not reinvention, is the theme of Midnights. The record-breaking album contains thirteen tracks which all portray "a journey through terrors and sweet dreams." 
"Lavender Haze" || As Swift said in a video prior to the album release, the track explores her relationship with Joe Alwyn. The track includes sweet singing and harmonies with iconic lyrics, all over an electric, futuristic thumping beat.
"Maroon" || Just as you thought Taylor Swift only sees love in Red, but ten years after its release, that Red is now turning "Maroon." Swift sings, "And I chose you/ The one I was dancing with / In New York, no shoes." The Swifties know where she was dancing shoeless: the 2016 Met Gala with Tom Hiddleston. But let's not talk about it.
"Anti-Hero" || After the release of "Blank Space," Taylor Swift has clarified her awareness of the media's portrayal of herself as a villain, or in other words: the "Anti-Hero." The lead single analyzes her insecurities, narcissism, and problems. Although she claims herself "the monster on the hill," her altruism always triumphs.
"Snow On The Beach" (feat. Lana Del Rey)  || The long-awaited collaboration has finally arrived. "The song is about falling in love with someone at the same time as they're falling in love with you" expressed Swift on the track. With perfect production and breathtaking vocals by two talented women, the collaboration was worth the wait.
"You're On Your Own, Kid" || By alarming everyone of her struggles and insecurities from previous eras, Swift has formed her deepest, darkest "track five" yet. The song follows the philosophy of being on your own and the fear that comes with it, but discovering the light at the end of the tunnel and the strength to overcome it. "Everything you lose is a step you take." 
"Midnight Rain" || Arguably a fan favorite, "Midnight Rain" has drawn a significant amount of attention due to the anticipated question: who is this song really about? Taylor Lautner? Harry Styles? Tom Hiddleston? Unfortunately, this question remains unanswered. As the song contains great lyrics and production, Swifties will listen to the song regardless of who it's about.
"Question…?" || Highlighted as one of the best songs on the album, "Question…?" narrates an entire relationship in a few minutes. Taylor Swift explores the doubtfulness and anxiety in a relationship she once  had. This track holds  the album's "experimental song" spot, and I think I can speak on everyone's behalf when  I say that the experiment demonstrated huge success for T-Swizzle.
"Vigilante Shit" || Any enemy of Taylor Swift better hide. She is no longer holding back, as she preaches "lately I've been dressing for revenge." It is confirmed that this is the revenge anthem of the decade. If I'm being honest, I envision myself stirring up the pot to this song. But since I'm in my "nice era," I cannot do that. I'm passing the crown to Taylor Swift. 
"Bejeweled" || A common theme in Midnights is reflecting on fake ex-boyfriends and highlighting her real love: Joe Alwyn. Broken down from previous breakups, Swift is consistently building herself back up, "polishing up real nice." Diamonds are a girl's best friend, but diamonds are the last thing Taylor Swift needs to portray beauty, magnificence, and perfection. 
"Labyrinth" || Chills and tears are the two things I experienced listening to "Labyrinth" for the first time. The song explores the fear of falling in love again due to the opinion of others. Swift normalizes fear and anxiety over good things—something we all experience at times. Sure, she's falling in love again, but this time, it's different. 
"Karma" || Based on "Karma," Taylor Swift has two boyfriends: Joe Alwyn and Karma. This song highlights a full-circle moment—if she couldn't end her enemies, Karma will. We see it now with Kanye West's public controversies, Scooter Braun's cheating scandal, and John Mayer's declining music career, to name a few. If there's one thing you should remember from reading this article, it's to never mess with Taylor Swift. Like ever.
"Sweet Nothing" || After many revengeful breakup songs, "Sweet Nothing" gives first-time listeners whiplash. Not to be cheesy, but the song is the sweetest, lovey song on the album. This song portrays love in its purest form. It seems as though Joe Alwyn is going nowhere. And good, because they are a real representation of "true love."
"Mastermind" || Through all of the craziness in her life, her lover will always love her. After the growth and development throughout multiple sleepless nights during her career, she can now rest as she finally found someone who truly loves her and has built a legacy that no one else can achieve but the mastermind herself: Taylor Swift.
Leave a Comment