Hello, homecoming highlights!
From silk dresses to suits, this year's LM homecoming definitely proved that some fashion choices were just made for the dance floor. Read more to find out what outfits were featured!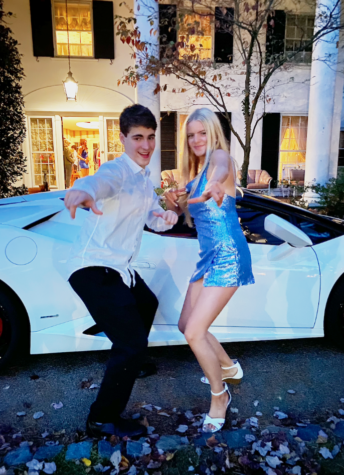 Short or long dress? Sneakers or heels?  Jacket or vest? These are just a couple questions that might have come into your mind when deciding what to wear for this year's homecoming. Homecoming is a semiformal event which is why it leaves so many questions in the air. Traditional homecoming attire includes khaki pants, button up shirts, and short dresses, but this frame can be interpreted in many different ways. This year's homecoming showcased these traditional elements and trends of the season, along with some style risk takers making their mark. When scanning the crowds at this year's homecoming, there was a clear reflection of today's current fashion trends. In the past, the majority of girls would show up in nude or black single strap medium heels. Although, with the recent reintroduction of platform shoes, many people looking to stand out showed up in chunky loafers or boots. Celebrities such as Bella Hadid, Olivia Rodrigo and Emma Chamberlain have played a major role in the reemergence of this trend.
Another popular shoe that juxtaposed the otherwise formal attire were Chuck 70's. During the 90's, the trend of wearing sneakers with a dress and athleisure as fashion emerged. This practical and distinctive style is one that has proven its longevity. In the end, opting for a chunky loafer or a sneaker appeared to be a popular trend over the casual heel as a stylistic choice, and it was more comfortable on the dance floor. As for the dresses, simple and elegant was a common theme. Most people got their dresses from mainstream brands such as Zara, Aritzia, and Nordstrom. Popular silhouettes included short tight dresses with angular cut outs. Interesting fabrics were also seen, such as silk and suede. Although a simple silk black dress is a safe option, it became a bit redundant. Similarly, attire for many of the guys was more of the same.
For the majority, a pair of khaki pants, a plain white button up, and tie was the outfit of choice. The only variation seen was between vests or jackets and ties or no ties. Overall, it was clear that conformity was prioritized over creativity. Opposed to those who decided to conform to the masses, individuals who took on retro silhouettes or thrifted fashion really stood out. Outfits that were clearly thrifted were particularly eye-catching. A lace mini dress from the 80's is much more memorable than a fast fashion cotton piece from Princess Polly. This sustainable fashion appeared aesthetically pleasing and unique. Further, another interesting element was the incorporation of statement jewelry pieces. Whether it was a vintage gold piece or an eye catching oversized heart pendant, these adornments really made otherwise simple assemblies stand out. The fashion at this year's homecoming was nothing earth shattering on the majority. It was more of the same fast fashion dresses and simple khaki pants.
Although, those who did make an effort to differentiate themselves with unique pieces really made an impact and left an impression that will be hard to forget in the future. 
Leave a Comment