Meet DEI Director Shawanna James-Coles
Learn about how LMSD's new Director of Diversity and Equity plans to make LMSD a welcoming, inclusive community for all students and staff members.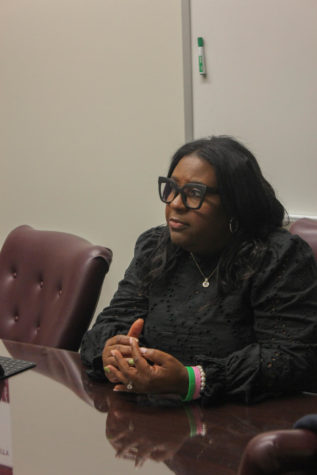 From her well framed glasses to welcoming personality, it is clear a new warmth has recently joined the LMSD administrative staff. Shawanna James-Coles was appointed as the brand new Diversity Equity and Inclusion (DEI) Director for the 2022-2023 school year. Pulling from her time as a teacher in the Philadelphia School District and a DEI director in the Centennial School District and her current work receiving her doctorate degree from Immaculata University, James-Coles has leaped into the school year with new goals and strides in diversity and inclusion through- out LMSD school communities.
Primarily, James-Coles has stated that her goal this year is to bring together the different aspects of diversity training throughout the district. James-Coles notes that "Lower Merion is doing a lot of great work…you have CREI (in reference to LM's racial equity club) over here and POWER Scholars (in reference to a program to initiate African-American leadership and cultural celebration at Harriton High School) over here…the question is how do we connect all these dots?" This work, she says, starts with belonging. Initiated in collaboration with LMSD Superintendent Khalid Mumin, the belonging campaign seems to be the central pillar of work in diversity this year. "We're talking about breaking the dysfunctional cycle of doing equity work the same way…we can't keep doing the same things over and over again," James-Coles urges, "How do we look at it differently? Belonging is that piece." The concept of belonging seems to be the expansion of what DEI means. It reframes the borders to encompass all people.
Tangibly, James-Coles has worked to break these big issues into administration and staff workshops. She explains that she compares the idea of belonging to a party. "Everyone is invited to Mrs. Coles' party…and everyone should feel good about being there." Whatever music everyone likes, food, dance moves, those are all pieces to building comfortability at her metaphorical party. "And everyone got there a different way. Some people might have taken a car, others might have walked." "Getting everyone on the same page is really important. Everyone has to know what diversity means, what equity means, what inclusion means."
However, teacher and administrator training is only one part of the puzzle; visibility and student communication seem to encompass the other parts of her work. James-Coles has emphasized the importance of being in schools and speaking with students. Due to her willingness to be interviewed about her history as an administrator and teacher, James- Coles clearly values the importance of student connection. She mentions going and having dinner with a family just to discuss an idea one of her students wanted to initiate around the school. James-Coles describes her trips this year sitting in on classes and roaming the halls, taking time out of her day to help students find their classes, and showing up to diversity events, like EmbrACE which was held last year. "All of it is the nature of the job," James-Coles says, but it's clear it's a highlight of her day as well.
So what can students do to aid the DEI Director's work? James-Coles points out that it's all about being active. Students, James-Coles says, can initiate work to fix problems. From reporting issues to starting up campaigns and events, everyone around the school has a responsibility to work hard to make LM a welcoming environment. It all comes down to mutual trust among LMSD students and administrators.
It is along lines of organization, education, and of course, belonging that James-Coles is hoping to welcome all LMSD community members into her party. LM is excited to see what the new DEI Director has in store for the future.
View Comments (1)