Football season snapshot
A complete review of LM's football season.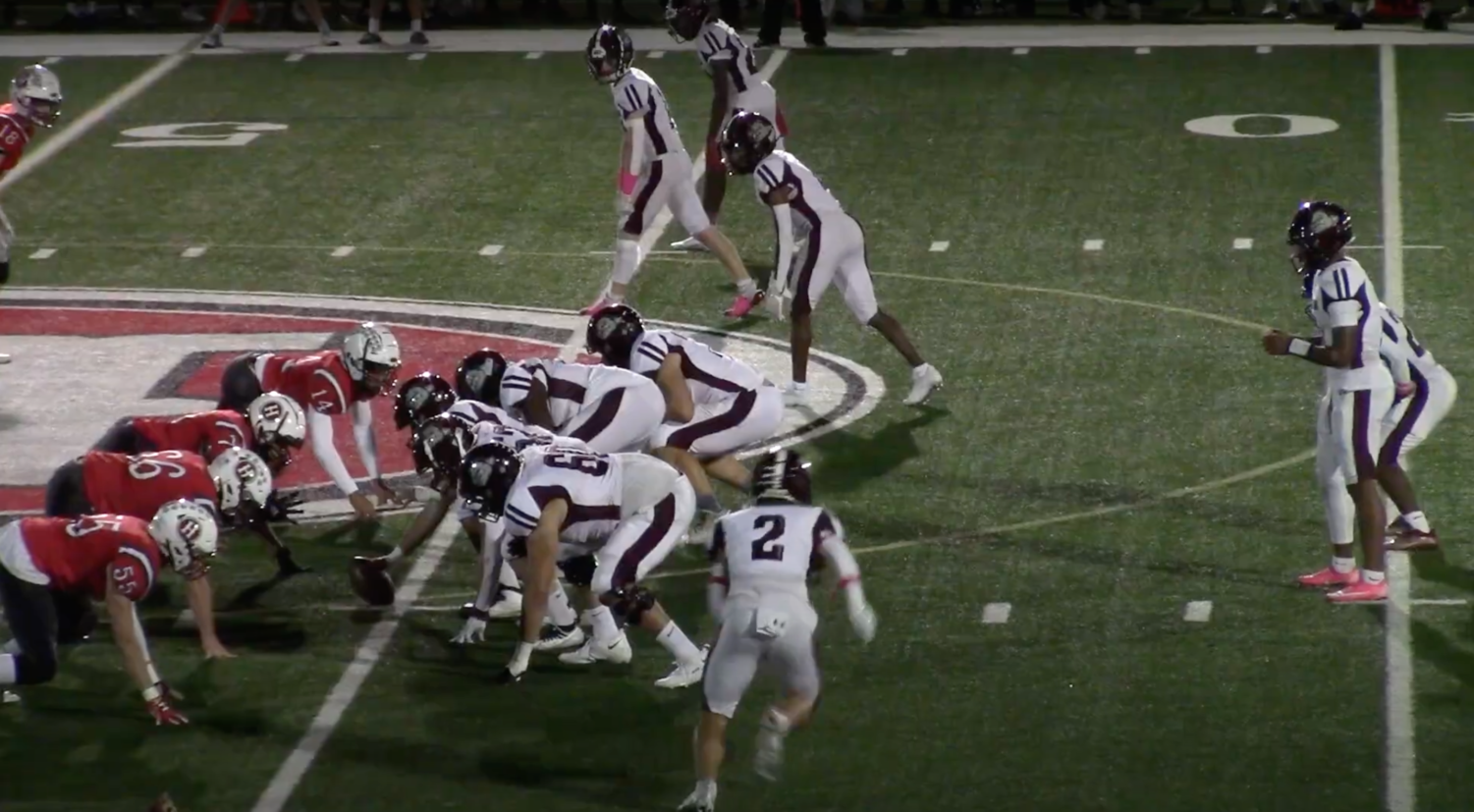 The LM football team's 2022 season culminated on November 7 with a fourteen point shutout loss to Radnor. This game, and the Aces season as a whole, was largely a disappointment. They were outscored by 147 points as they finished with a 2-9 record. Of their nine losses, only one was a one score game. However, the Aces 2022 season was not all bad. Many of their losses were legitimately winnable games and the Aces had moments where they showed flashes of what they could become in upcoming years. And compared to some of LM's football season's in the last handful of years, it's clear the program is going in the right direction. But what is still holding the Aces back? What areas do they have to improve upon? Why are they not winning in the Central League? And what is the future of this program? These are questions that deserve to be answered, but before doing so it is necessary to look back on the season as a whole. 
Week One: Pottstown
Win; 35-0
The Aces most dominant win of the season came in week one against Pottstown. From the first snap, it was clear that Aces outmatched the Trojans in every area. Their advantages in speed and physicality made it particularly easy for LM to run the ball on offense. Ben Booker '24 finished with three touchdowns, as spectators got to get a first look at LM's offensive line, which was led by two great tackles in Xavier Archawski '23 and Toby Myers '25. On defense, it was LM's linebackers who set the tone. Charlie Coyle '23 had a strip sack in the first quarter, while Andrew Cook '24 finished with over 10 tackles. Cook also single-handedly stopped Pottstown's only offensive threat by spying their mobile QB. Without that ability the shutout was ensured. 
Week Two: Conestoga
Loss; 15-14
LM may have lost this one, but I still believe that this was their best performance all year. Mekhai Smith '24 made some great throws throughout the course of this game with multiple darts on seam routes, a perfectly placed back shoulder throw on the goal line, and a clutch throw under pressure on fourth and one. This production from Smith was necessary considering the fact that the Aces couldn't get the run going. In addition, the Aces defense took advantage of a struggling Conestoga's offense by only giving up three points in the second half. A blocked punt by Brennan Else '23 was the turning point that set up an Aidan Flizar '23 touchdown late in the fourth quarter. However, after the touchdown, the Aces offense did not go for two, keeping their lead only at two points. On the final drive of the game, Connestoga's offense converted two fourth downs and consequently won the game with a field goal. An absolute heartbreaking Loss. 
Week Three: Marple Newtown
Loss; 29-12
In this contest, the Aces secured an early lead with two big offensive touchdowns in the first half. George Taylor '23 had the Aces best play of the year with a 77 yard catch and run, while Sam Zheng '23 caught a perfectly placed ball from Mekahi Smith for a 28 yard touchdown. Unfortunately, the Aces offense went stagnant in the second half as their running game struggled for the second straight week. But what really lost the Aces this game was their unforced errors. They had two turnovers via an interception from Mekhai Smith and a muffed punt on special teams. Also, two of the Aces most substantial offensive plays were both called back due to penalties. Their defense also allowed first down conversions on both 3rd and 18 and 4th and 8 in the second half. If a few more things had gone their way, LM may have been 3-0 at this point in the season. 
Week Four: Upper Darby
Loss; 42-14
This blowout loss was a crushing blow to an Aces team that competed in each of its first three matchups. In this game, the Aces simply couldn't stop the run against the talented backfield tandem of Montez Ellis and Lavar Jackson. And considering LM's lack of offensive productivity, the Aces stood no shot in winning this game. It must be noted that LM was battling multiple injuries in this game and at this point in the season. Ben Booker '23, Felix Morales '23, and Toby Myers '25 were all sidelined in this game. As two way players, the effects of these injuries can not be understated. The one positive play of this game was a score on a deep post by George Taylor. This was Taylor's third week in a row with an impact play on offense.  
Week Five: Strath Haven
Loss; 42-7
In this consecutive blowout loss, the Aces run defense was the story again. LM couldn't compete against Strath Haven's patented wing-t offense, which was run to perfection against the Aces defense. LM's middle Linebacker, Andrew Cook, was injured in this one, so their defense was not at full strength against one of the Central league's best offenses. LM's lack of offensive productivity was aided by a few miscues from its receivers including a couple of dropped passes. In these games where the Aces were particularly outmatched, I would've liked to see them be more aggressive. The use of trick plays, unusual formations, and even onside kicks could've thrown this Strath Haven team off their game. 
Week Six: Ridley
Loss; 28-0
This loss against Ridley was particularly demoralizing in that it marked the fifth consecutive loss and third consecutive blowout loss for the Aces. Based on the score, it's pretty evident that the Aces offense struggled to get going all night. On their first three plays of the game the Aces offense had two turnovers. In this game, LM converted a couple of first downs, but they did not gain any big plays. Part of this was due to George Taylor's lack of involvement as he was only targeted once all night. The bad weather in the form of rain also made it difficult for LM to take deep shots at any point in the game. The Aces defense actually played really well in this game. 28 points allowed was not substantial considering they were on the field for the overwhelming majority of the game. They had two goal line stands and used new coverages that effectively slowed down Ridley's best receiver. 
Week Seven: Harriton
Win; 34-13
LM's best win of the season came against their rival Harriton. The Aces defense highlighted this victory with great performances at all three levels of the defense. Their secondary worked to keep Matt Krebbs to a quiet game, while their front seven was a force in run and pass pressure all game. Every yard gained seemed like a struggle for Harriton as LM proved to be the substantially better team. LM's offense capitalized off of their defense's dominance with three 40+ yard scores. LM may not be competing the best against their current Central League opponents, but they were certainly better than their non central league counterparts in Harriton and Pottstown. 
Week Eight: Garnet Valley
Loss; 35-7
This game against Garnet Valley, much like Strath Haven, was simply an unwinnable matchup for the Aces. To give perspective, Garnet is currently 16th in the state, while LM is ranked 329th according to MaxPreps. LM was also short sided in this matchup as Mekhai Smith was sidelined with an injury for most of this game. In spite of these things, LM still managed to perform well in a few areas. They did not have any offensive turnovers in the first half nor did they give up any huge running plays. 
Week Nine: Springfield
Loss; 49-12
Despite their 2-6 record at this point in the season, LM still had a chance to make the Central League Playoffs by winning two of their last couple of games. Springfield was not the juggernaut that Garnet Valley or Strath Haven was and as a result, LM was optimistic about their chances coming into this game. But from the start, it was clear which team had the advantage. On their first drive, Springfield ran a 10 play, 63 yard drive that balanced the run with the occasional play action pass. This was their offensive approach all night, as the Aces defense had no answers, while the Aces offense finished with 12 points. 
Week Ten: Haverford
Loss; 21-6
On paper, Haverford and LM were even rosters in terms of talent and depth. But unfortunately, LM didn't play their best game. Their play in all three phases of the game was not up to their typical standard, as Haverford proved to be the better team in this one. But I'd argue that if there was one non-competitive game this season that should've been closer, it was this one.   
Week Eleven: Radnor
Loss; 14-0
LM's last game of the season was a disappointing loss that was largely reflective of the Aces season. In the famed Radnor rivalry game, LM had a chance to pull off an upset, but ultimately lost because of a few game management mistakes. For one, they did not repeatedly take deep shots against Radnor's defense, which was playing with little to no safety help over the top. The Aces also ran the ball on multiple 3rd downs that were clear passing situations. The game ultimately was sealed with an unsuccessful fake punt attempt on 4th and 11 from the Aces own territory. Defensively, The Aces would have had a great performance if it weren't for two plays, both of which were long rushing touchdowns by Radnor. The Aces fought hard to the end, but it still feels like they should've won this one. 
Evaluating the Aces Program
How Could the Aces Have Been Better This Year?
Upon looking at the Aces this season, I believe there are two areas where they could significantly improve: offensive efficiency and unforced errors. In Central League games this year, the Aces highest point total was 14 and they averaged only eight points per game. These are staggeringly low numbers for any level of football, let alone high-school football. So what caused the Aces poor offensive output? The short answer is everything. For one, they did not get their running game going all year as they very rarely made big plays on the ground, nor did they move the chains and tire teams out with long rushing drives. In the passing game, they had no kind of sustainable success. The lack of passing offense was most disappointing because they had talent in every area. Mekhai Smith is a good quarterback; Xavier Archawski and Toby Myers are great passing blocking tackles; and Sam Zheng and George Taylor were big-play receivers. They had all the pieces necessary for a good passing attack, but it never came into fruition consistently. It almost felt like whenever one facet of the passing offense was clicking, one of the others weren't. Additionally, there were almost no games where all of the players mentioned above were all simultaneously healthy. For whatever reason, the offense failed to produce all year, and in an offensive driven sport, the Aces record paid the price. Unforced errors also lost the Aces a couple of games as well. If they had gone for two against Conestoga, had no turnovers against Marple Newtown, and made a few different decisions against Radnor, then the Aces could've been a five win team. These mistakes are particularly important in correcting, because they are easily fixable and fully within the Aces realm of control. The Aces season as a whole could've looked much different if they had prevented themselves from making these mistakes in crucial moments and games. 
Why are the Aces Not Winning in the Central League?
While I still believe the Aces could've been better in their Central League games this year, the reality is that they finished without a single win in their conference. You don't just go 0-9 in your conference because of an inefficient offense or unforced errors, and you certainly don't go 0-9 just because of bad luck. There are reasons, systematic reasons, for why the Aces have been unable to compete in the Central League in recent years. For one, the Aces are at a severe disadvantage when it comes to acquiring players. Because the Aces are not allowed to recruit players, their only source of talent is from the local area. The unfortunate part about the local LM area is that it has very few kids who grow up playing tackle football. As a result, you not only have less overall kids on your football team, but a large portion of kids with no prior football experience. In contrast, teams like Garnet Valley and Strath Haven have nearly 80 players on their roster, most of whom have experience, and a large majority of which are also looking to play in college. As a result, these teams' rosters have way less positional weaknesses and way more depth in addition to their experience. And while LM has had a number of great players come into this program in recent years, there are still not enough total players coming in to compete with these large rosters that Garnet Valley and Strath Haven have to offer. Even in games where they showed they could compete, like against Marple Newtown and Conestoga, they still had less players and coaches on the roster, as well as less overall talent. 
What makes matters even worse is that the Aces recent history will hurt them even more as less players and coaches are going to want to get involved in a program with a 'losing' reputation. This is why in recent years, the Aces roster size has been smaller than most of their Central League opponents and why the Aces have also had a shortage of assistant coaches. Again, these are severe disadvantages completely out of the Aces control, and they're the main reason why the Aces can't consistently compete with their Central League opponents. 
A Look into the Future
Despite a disappointing season, the Aces still have reason to be optimistic about the near-future. In the upcoming 2023 season, a lot of key pieces are returning. Most importantly, their starting quarterback Mekhai Smith will be back for next year's season. Smith showed major improvements from his sophomore year to his junior year this season, so there is plenty of reason to believe that he will come back as a senior better than ever. Two stars in Andrew Cook and Toby Myers are also returning at the Middle linebacker and tackle positions respectively. As far as coaching goes, everything is currently set to stay the same. Stability in the Aces coaching positions will be beneficial for returning players and it will also allow for the coaches themselves to build off of the experience they gained this year. Beyond the near future there is a lot of uncertainty in the LM football program. If they cannot overcome the issues they've faced and have been facing in the last few years, they will remain at the bottom of the Central League. 
Leave a Comment