Setting up success
A look at the girls' volleyball team's impressive run through States.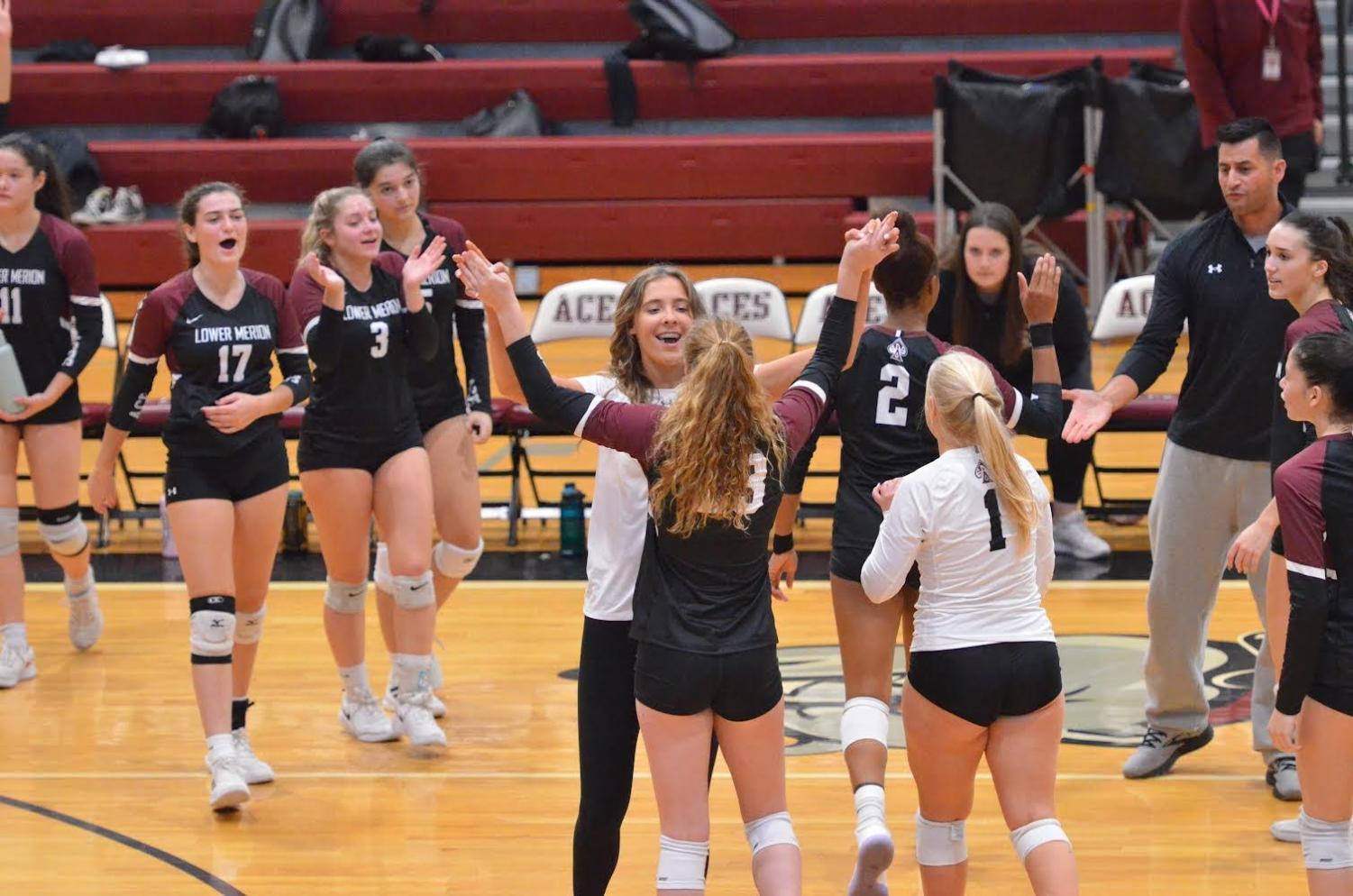 LM volleyball's season came to a close on November 12 with a narrow loss to Garnet Valley in state quarterfinals, but the Aces finished with much to celebrate. In addition to their impressive run in states, the Aces were second in the Central League, third in districts, and champions of the Bishop Shanahan Tournament.
Surprisingly, Aces volleyball wasn't expecting to have such an extraordinary season. There were evident gaps in the squad, as noted by captain Claire Hamilton '23: "Coming into this season after losing seven seniors last year, it took a lot of determination to believe in ourselves." Despite the change, the Aces buckled down in preseason, building confidence by strengthening connections within the team. The team's positional fluidity began to set them apart from their competition. Hamilton remembers working a lot on "court connections, working hitters with the setters to get plays down." Communication was another focus, allowing "the front and back row to be on the same page and work together as one team to push throughout the entirety of a match."
The Aces also adjusted their mentality, preparing for each game with the same focus and never underestimating the toughness of their opponent. Zoe Brown '24 credited the team's coaching staff for encouraging positive mindsets: "They have pushed us to be our best in practice and in games and most of all have taught us how to be mentally strong." Captain Tianna Stavrianos '23 noted a shift in mentality, too, saying, "Last year, we were going up against these teams that we thought would be easy, but weren't. This year we knew what we were going up against." The team did their best to stay present, not thinking about the postseason and focusing instead on winning the games at hand. "We didn't have the thought that we would even make it to states, but we pushed ourselves to the limit," says Stavrianos. This hard work clearly paid off, as the Aces fnished the season a combined 22-5-2.
Hamilton and Stavrianos highlighted Brooke Johnson '24 and Brown as key components of the team's success. Brown was a
defensive powerhouse, leading the team in both digs and serve receptions. Stavrianos also stressed the positive impact Brown's personality had on the team, saying "[Zoe] always tries to motivate us and get us hype right before a game-she's a player that never gives up." Johnson, an ofensive standout, was praised for her composure and quick-thinking. "Brooke came into this season very strong as a 6 rotation player and stood out to me as an offensive MVP, making smart decisions from the front row," says Hamilton.
Johnson and Brown will certainly play big roles in the future of Aces volleyball. Going forward, the program is determined to make seasons like this one the standard. "Looking ahead, I'd like to keep focusing on building the team to our best level and coming out strong in league play this year," says Camille Heaton '24. With an exciting mix of new talent and seasoned leaders, the team is hoping that their electric form will carry them to a league championship in 2023. "[The of season] is time to really develop and improve our skills to hopefully win the central league next year. Getting a banner on the gym wall really is a huge goal for next season," says Brown.
Leave a Comment