Politics have rapidly gained their place at the forefront of daily lives and communities, subsequently growing heavily disputed within the education system. Education and public schooling are inherently political, as are most modern institutions. Who funds our school system? Who decides how that funding is allocated? Who chooses the textbooks? It can all be reduced to the simple idea that politics are no longer limited to the government itself or elected officials, but are rather an integral part of our society. They are dominating establishments that are difficult to imagine being influenced by politics. Our education system is growing more political by the second, and so the question is posed of whether educators should be able to express their own political views in a classroom setting.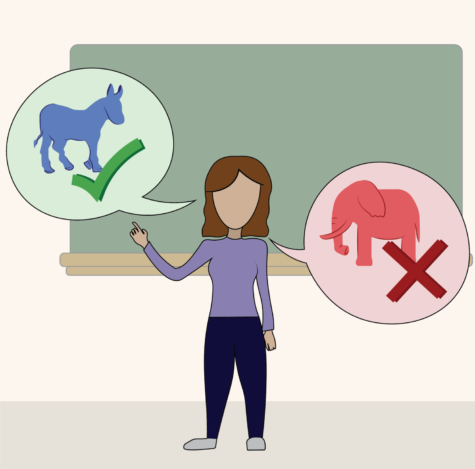 Political neutrality as a teacher is a slippery slope; we all know that when politics are on the table of discussion, there is likely some sense of bias influencing what is being said. Arguably, it is almost impossible to truly remain politically neutral when everything has been politicized, even as an educator. We've all heard it from our teachers for years: "I'm not technically allowed to say this, but what I will say is…" or "I'm not really allowed to share my politics, but…" 
In courses at Lower Merion where politics are central to the curriculum, limiting an educator's ability to "get political" in class is also limiting their ability to teach, provoke thoughts, and encourage political discourse. There are ways in which teachers can share their own political beliefs without "pushing an agenda," and it is through these methods that the most enriching classroom discussions take place. By disconnecting people who advocate for policies from the policies themselves, you are eliminating what would most sway the opinion of students, and leaving them to think critically about their own views, and how they want to start forming their opinions. You discuss the ideas and the policies first, and only then should you connect those ideas to politicians. 
That being said, political beliefs can be shared in a classroom as long as they are always being discussed. A discussion of this nature would require there be logic, reason, and an opportunity for students to refute or respond to points being made by the teacher, or other students. This is what fosters the kind of environment that allows students to explore their own beliefs as well as the beliefs of others. The ability to have fact based and relevant discussion of politics in a course in which it is fitting to do so, falls hand in hand with an educator's ability to freely talk about political issues without having to fear pushback from administration or parents. That being said, there is a fine line between discussion and lecture, and this is where it is important to make sure teachers don't fall short. If the said "discussion" fails to include the opportunity for retort, it is no longer a discussion but rather a politically biased lecture, which is simply not a beneficial way for students to digest the political opinions of their teacher. 
By not allowing the educators in our school district, as well as districts around the country to openly discuss their political opinions, we are closing the door to conversations that need to be had. We are allowing teachers to avoid talking about subjects they deem as "uncomfortable" or "controversial" because just as almost everything else, it has been politicized. Through intellectual and respectful debate in the classroom, students can learn to interact with those who possess ideas that differ from their own, as well as grow their ability to participate in political discourse.