A new jeaneration
Exploring the different approaches rookie K-Pop group NewJeans has taken on K-Pop traditions.
K-Pop continues to grow in its dominance in the global music industry, influencing related industries such as makeup, fashion, and graphic design. For those unfamiliar with K-Pop, it's an umbrella term, short for "Korean pop," featuring a wide range of genres, such as hip-hop, dance, rhythm & blues, ballads, and several others, originating in South Korea. After a slight delay from the Covid-19 pandemic, fans have entered the "fourth generation" of K-Pop. During the emergence of new girl groups, NewJeans has headed to the top of this revolution. 
The quintet made their debut by dropping their surprise music video "Attention" on July 22, 2022. The five members are remarkably young, consisting of Minji, Hanni, Danielle, Haerin, and Hyein. In their initial appearances, the audiences doted on their youthful and stylish teen looks, characterized by colorful Y2K outfits, long dark hair, and natural makeup. 
Aside from visuals, NewJeans's innovative music style is the key factor of their success. Officially debuting on August 1, the group's EP New Jeans—consisting of four songs "Attention," "Hypeboy," "Cookie," and "Hurt"—hit #1 on iTunes in nine different nations, just eleven days after its release. 
"Attention" combines calm and lower-range vocals with a groovy beat. Longtime fans were captivated by this composition: Samantha Mai '24 commented, "I haven't heard this sound from any fourth generation group… I also love the choreography." The lyrics refer to the initial exhilarating stages of teen romance. This combination of playfulness and purity adds to the group's charm—perfect for their predominantly teenage audience. 
The other two title tracks "Hype Boy" and "Cookie " also got their own music videos on July 23 and August 1. "Hype Boy" is my personal favorite, with its vibrant electropop sound and genial lyrics. "Cookie" has a minimalistic and bubbly instrumental, with lyrics that supposedly refer to one's love language of giving cookies. However, listeners quickly caught on to the inappropriate connotations. This alarmed fans as the majority of the members are still minors. The last track on the EP is their B-side "Hurt", a soft ballad with lofi beats. Maintaining their pure image, NewJeans expresses a sense of vulnerability through a mellow and heartfelt melody.
The EP album sold over 300,000 copies the first week of its release, setting a new record for the highest sales of a girl group's debut album. As their popularity skyrocketed, they won many awards, including Melon's New Artist of the Year, The Fact's Next Leader, and the K-Billboard's Hot Rookie in 2022. 
After an impressive hit with their first promotion, fans were thrilled upon hearing news of a winter comeback for the girls. Record label ADOR announced the new single album "OMG" to consist of two songs, one that had been planned since their debut, as well as a completely new track. 
On December 19, 2022, NewJeans released the two music videos for the first song "Ditto." The song took on drastically different themes compared to their summer music. With inspiration from Baltimore club music, the song has an atmospheric and dreamy audio, accompanied by rapid percussion. The members' soothing vocals are a pleasant contrast to these unique instrumentals, suiting the lyrics that hint at unrequited love, wishing the same feelings would be reciprocated. 
Two weeks later, the music video for title track "OMG" was released. The song has a laid-back hip-hop beat, emphasized by a rhythmic chorus, with the lyrics expressing one's mind-consuming feelings for someone. Fans speculate that the new music videos allude to aspects of mental illness in our young generation. 
Despite debuting less than a year ago, the girls have certainly impressed audiences with their musical versatility and engaging themes. As a part of their ever-growing fandom, I too am excited to see what other projects the group has to offer.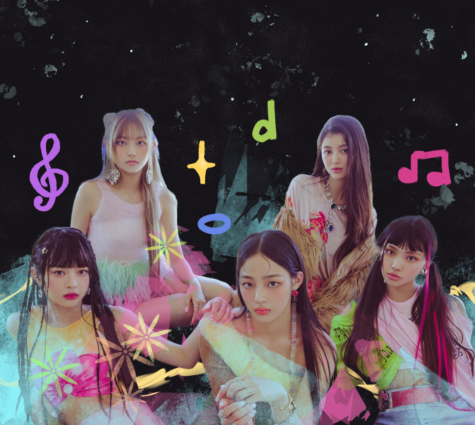 Leave a Comment