A Junior's Guide to College Applications
Listen to tips from LM students, and learn about ways to avoid stress in the college application process.
For seniors across the country, January marks a relieving end to the grueling college application process. Hours of research, consideration, reading, writing, and editing culminate into a collection of essays that represent a student's entire academic and extracurricular career. In seconds, with the press of a button, all those hours of hard work are submitted to admissions offices, permanently out of students' hands. Inevitably, the college application process will evoke some anxiety. However, students must avoid getting caught up in the life-changing aspects of choosing the perfect college. This habit of overstressing is an easy one to fall into, especially considering the harsh acceptance patterns developing in recent years.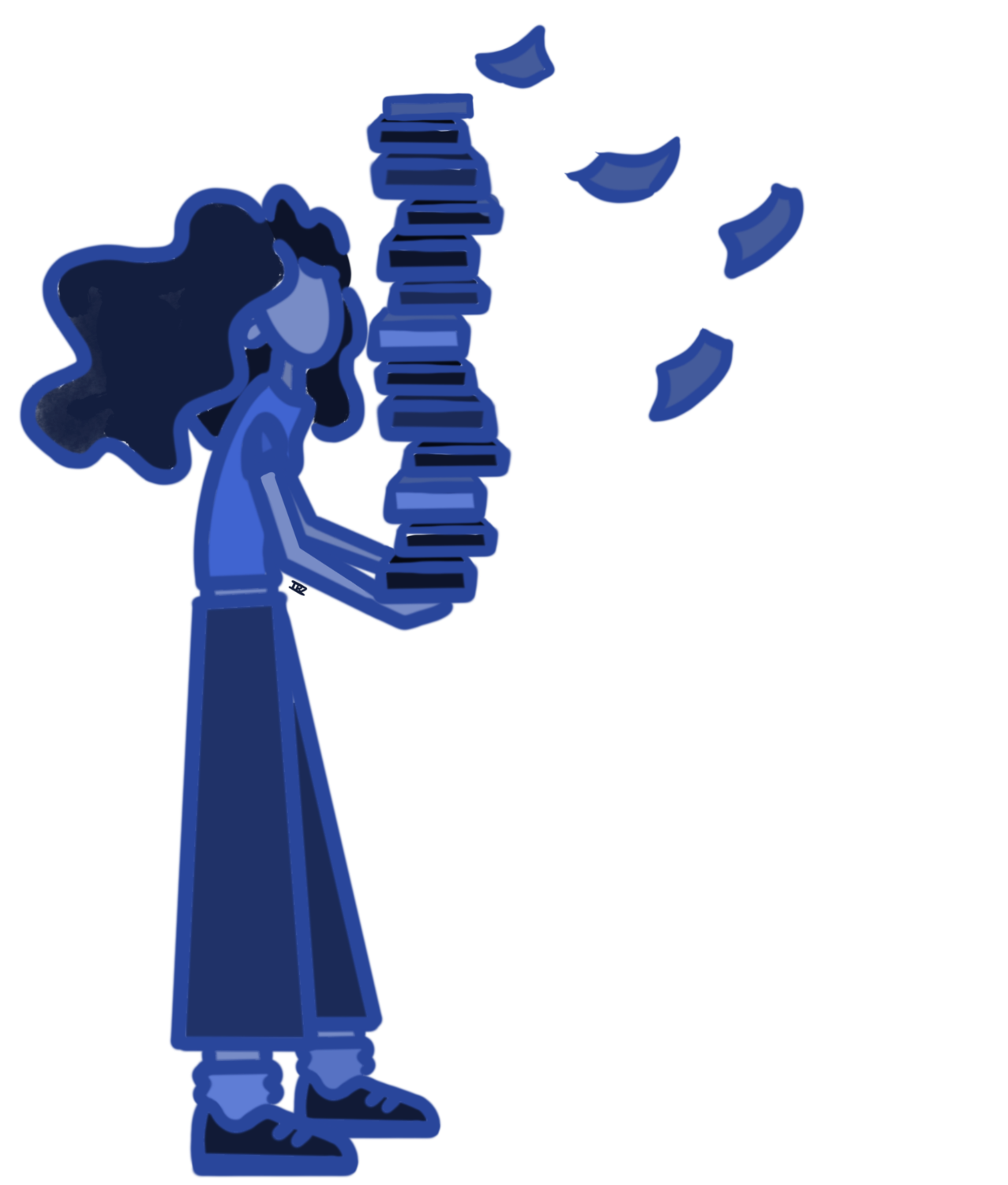 Unfortunately, today's students face some of the lowest college acceptance rates in history as test-optional policies become increasingly popular and the yearly total of college applicants continues to climb. Besides this fear of growing competition, many students carry yet another burden. Internal factors, like a student's social environment, can also influence the pressure a student feels applying for college. For example, a student whose friends or family graduated from an Ivy League school will almost certainly feel pressured to meet the same high standards. This cookie-cutter environment is typical at LM, according to Madeleine Fiks '23, who believes that the school "promotes a very toxic college application process where people focus too much on their grades and getting into top-tier schools." Instead of following these college trends, she urges students to focus on finding "a school that's a perfect fit for them." Indeed, establishing a mindset that prioritizes school preferences over college prestige will ensure the most pleasant college experience. 
Oftentimes, the most challenging part of the college application process is figuring out where to start. But taking the proper steps to break down this initially daunting task can result in a considerably less painful experience. Many students begin their journey by creating a list of colleges and universities to research. Websites like College Board and Naviance offer valuable college search services that can assist in building a college interest list. Simply enter a preferred campus location, size, lifestyle, and academic vigor, and their website will generate a list of colleges that match your personalized criteria. Visiting a college to take a campus tour is another great way to get an early feel for a college campus. Vacations, long weekends, and half-days are perfect occasions to take advantage of just a few hours for a college tour. For those unable to visit in person, many colleges also offer virtual tours with similar benefits. 
In addition to college tours, students at LM have other options for college help. LM's talented school counselors are undeniably the best resources for any curious student. The most effective way to kickstart your college search is to organize a meeting with your school counselor. They are always available for discussion with a wealth of information and connections for your benefit. School counselors, in addition to any other teacher or coach at LM, are also valuable candidates for letters of recommendation, making it worthwhile to become acquainted with all of the school faculty with which you interact. The closer you are to your selected author, the more personalized and higher quality your letters of recommendation will be! 
For a more casual, yet equally informative college discussion, try consulting a current LM senior. One such student, Nathan Yu '23, admits that the college application process "definitely took a hit on my academic life," mostly attributing his stress to needing "to juggle both school and college applications at the same time." He adds that for students who apply to many schools, "it can take a lot of time and you have got to plan ahead." Since most application deadlines extend into the school year, it is easy to assume there will be enough time to finish essays after the summer ends. So for any juniors or underclassmen, Yu recommends, "Start your essays early and make a schedule so you can stay on track." Ultimately, the stress of applying for college will depend on how well you manage your time. Therefore, although college might seem like a distant future, it is never too early to start thinking about the next steps toward higher education.
Leave a Comment