Judge Slomsky visits LM
Pennsylvania Federal Judge, Honorable Joel Slomsky visited LM, teaching students about civil engagement and political participation.
How can we best initiate student involvement in law and public policy? How can the next generation of leaders be properly introduced to these fields of study? What is the best way to initiate legal studies for the youth? These are the different questions that LM's Government teachers wanted to address this past December in an inspiring discussion with Pennsylvania Federal Judge, Honorable Joel Slomsky.
Civic Engagement Club sponsor and Government teacher Erin Laney asserts the importance of engagement in public fields. In speaking to her role in the education of students within the scope of government, she relays that participation "is not innate, it is built and learned and we must nourish it with education, with events and activities, and with a small dose of peer pressure." Specifically, Laney speaks to the importance of political involvement in high school and its transfer to life-long behaviors. "The most important part of student civic engagement," she simply puts, "is keeping students engaged." Such has clearly been defended in academia; one study ran using the National Educational Longitudinal Study as empirical evidence notes a correlation between youth voter participation—along with a myriad of other factors such as community service—and lifelong voter status. That's why when Judge Slomsky reached out to LM's Government teachers, Laney jumped at the opportunity to have him speak.
Honorable Judge Slomsky serves as a Senior United States District Judge for the Eastern District of Pennsylvania where he presides over civil, criminal, appellate and non-appellate cases. Throughout his speaking event, Slomsky emphasized the importance of the Constitution in his job. Slomsky handed students in attendance a miniature pocket Constitution and directed their attention to several articles spelling out their influence in daily life. When asked about the Constitution's importance after the event, Slomsky states that, "the US Constitution is what brings together a diverse society of 330 million peoples." Slomsky shares a truly inspiring sentiment: "you go through your daily life, you don't think about the US Constitution, but the US Constitution is thinking about you."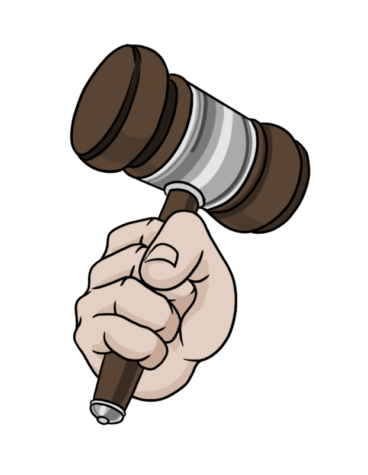 Students had a lengthy Q&A section in which they were able to ask questions pertaining to Slomsky's day-to-day life, experiences as a judge, and career pathway. Slomsky then shared in a later interview that his pathway to becoming a federal judge started with his work as a federal prosecutor, which was followed by his work as a defense lawyer for over 30 years. He notes with heartfelt sincerity that even after years of experience, the hardest part of his job is sentencing and he feels for the effect on both the individual and community at large when he does. Even still, he wishes the best for any student seeking a career in the field of law. His simple advice is to "study, study, study" and make contributions to society as a whole. In regards to legal reform, Judge Slomsky's opinion is straightforward: follow the Constitution when influencing change.
To Judge Slomsky, youth engagement in government starts with "being enthusiastic to learn about the legal system and the US Constitution and governmental processes." Laney adds, "law is the foundation by which our country functions and we charge one another with the task of interpreting the law."
The event as a whole aimed to leave all students educated and inspired. It seems it did just that. LM Mock Trial President Aniah Gagliano '23 stated, "I've always thought about going into the field of law, but Judge Slomsky definitely made that interest concrete for me."
Slomsky's emphasis on civil engagement was impactful to a body of future leaders, and students appreciated the chance to learn from a Federal Judge.
Leave a Comment