Running with the wind
Read about LM's indoor track season.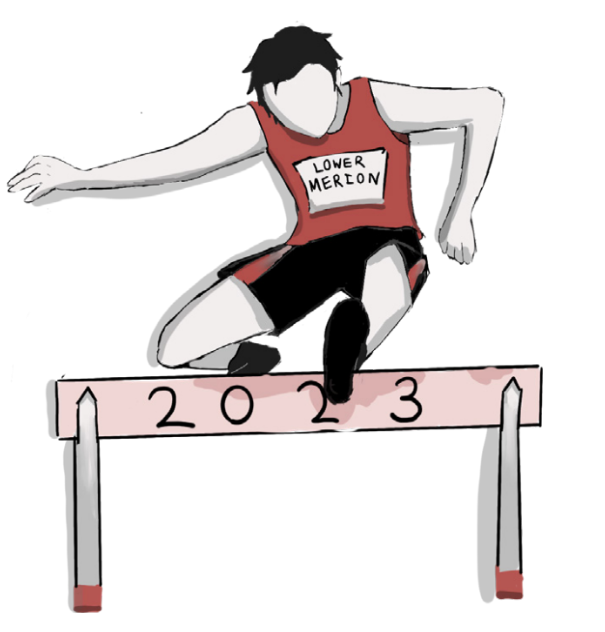 With a promising spring season ahead, the indoor track team looks to improve while also enjoying some competition. Leading the Aces is new head coach Kevin London, who returned to the program after a three year absence, and head distance coach Neal Berman. Coaches London and Berman run the program hand-in-hand, designing a rigorous training schedule to ensure success for athletes in both the winter and spring seasons.
Within the first several months of the indoor track season, the sprinters and jumpers have gotten of to a fabulous start. After the first three meets, four athletes—Nicklaus Jeudy '24, Demari Dean '23, Ruben Barrett '23, and Dayandre Miller '23—have qualified for the Meet of Champions: a selective meet that takes place at Lehigh University. These strong results in the first few meets is largely due to the training regiment coach London has set forth. Sprinters run six days each week, mixing in five, arduous workouts per cycle. Afterwards, the sprinters perform drills every practice, and cut them short twice a week to lift. By completing these post-run exercises, sprinters aim to improve form and increase their power to ultimately run faster. Hopefully the Aces' hard work at practice will help to propel more of their sprinters and jumpers into the Meet of Champions, and for those who are truly gifted, the even more selective state meet.
As for Coach Berman's distance runners, they have taken a more gradual approach into the spring season. The distance runners held of on competing in meets for a large portion of the indoor track season, facing of for the first time on January 21. Still, they have seen plenty of impressive results, leading Sajan Blum '23 to boast "the boys ran some fast times early in the season." Despite the varying approaches to competing in meets, Berman's distance runners have been participating in similarly fashioned practices to the sprinters. What's different about the distance team schedule is they only have three workouts for every six practices they have per week cycle, and they also incorporate yoga into their post-running activities. According to Nathan Grunfeld '24, "the workout schedule is certainly very strenuous, but I trust that Coach Neal's workout planning will pay of for the rest of the year."
Overall, the indoor track season has been a success, at least up to this point. Athletes have been working hard in practices, and the results are visible during competition. Although the indoor track team features many star athletes, the team's full potential for the spring is yet to be reached. Jeudy, the captain of the sprinters, expressed that, "we have a good, hard working group of guys, and we hope to add onto this in the spring season."
Leave a Comment