Bye-bye Blackboard, hello Schoology
LMSD is switching over to Schoology. Read about the logistical planning behind this decision and how teachers are feeling about the transition.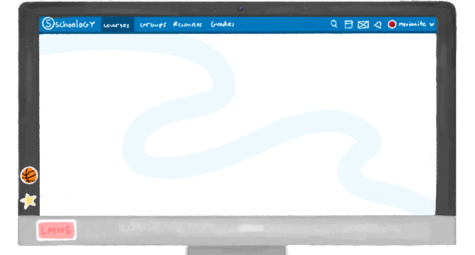 In 2018, LMSD assembled a group of teachers from the four secondary schools to research, select, and present a new Learning Management System (LMS) that would replace Blackboard and integrate new features to enhance the district's learning and teaching. Their search was narrowed down to Canvas and Schoology, both very popular LMSs. Ultimately, the district decided on Schoology and is now training teachers and administrators on how to use the new software. By the end of June, LMSD will no longer be using Blackboard, and teachers will have completely transferred their material onto Schoology.
The district favored Schoology based on its connectivity and integration of the many online resources used by teachers and students. Unlike Black- board, Schoology provides a platform that connects Powerschool, Google apps, class management items, collaboration tools, assignment trackers, assignments, and assessments all in one place. Assistant Principal Scott Kilpatrick noted, "We are the only district in Montgomery County using Blackboard. [Schoology is] so much more student and teacher friendly."
Schoology may condense the number of platforms being used, but it opens up the opportunities for what teachers can do with their online presence in the classroom. Spanish teacher Tara Pellegrino explains that the aesthetics and workability of Blackboard leave much to be desired: "Blackboard is very cumbersome, especially on the backend. You can't beautify things the way you can with Schoology…It seems like a stupid thing, but students need that. [It helps them] to see exactly where they need to click." She is also excited about the calendar feature of Schoology that allows her to "see what kids have due and when." With this new feature she explains that she will be able to "plan [her] tests based on when other teachers are having theirs."
Pellegrino states that for her, the new software is "pretty intuitive…and really easy to use." She concedes that this change may not be welcomed by all teachers, as "it really depends on the teacher" and their technological abilities. Kilpatrick also admits that "there are going to be some hiccups, like with anything." However, he explains that along with the training being held this year, there are technology teachers from the district corresponding with "the training staff at Schoology and they have been supporting our teachers."
Adapting to the new software may be an adjustment for teachers and students alike, but many seem excited and ready to try something new. When asked about her opinions on Blackboard, Emmie Luo '24 said that "I don't like that there isn't one format. Some teachers don't use the weekly plan, some do." With the new, more integrated platform, she hopes that the use of the features of the platform will be consistent across classes, so that their purpose is effective.
The district's vision is that the use of this new platform will simplify and enhance the online learning and teaching process for teachers and students across their schools. Kilpatrick states, "This is a one-stop-shop. You're not having to log into this program then log out of that program then log into this program."
Leave a Comment