Coming in for a landing
Reflect on the Aces basketball season and find out more about the seniors on the team.
LM Basketball, as of March 8, has 21 wins and only 5 losses–another impressive season for the Aces. Head Coach Greg Downer has led the team exceptionally well, as LM has come to expect, coaching in his 33rd season and amassing over 600 total wins over the course of his illustrious career.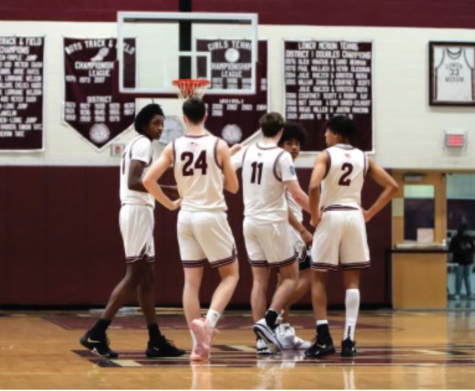 Over the years, he has won the Central League title 17 separate times and captured the District Championship two separate times. Of course, the coach was not the only member of the program to enter their name in the record books this year. An exciting highlight of the season came when Sam Brown '23 joined the thousand point club back in January, where his name will hang on the walls of the Kobe Bryant Gymnasium with other famous figures in LM's basketball history. In fact, only nineteen student athletes have ever reached this milestone. Brown signified his
importance to the program when, in his very first game freshman year, he dominated twenty points. Since that first game, he has been a crucial component of the Aces. Each year, his points per game and impact on the team have increased, contributing to Aces success. 
Last year, LM had a season filled with championship victories. LM won both the Central League Championship and District Championship. Sadly, this year, Radnor beat LM in the Central League Championship 60-46 and Plymouth Whitemarsh outscored the Aces 64-48 in the PIAA Class 6A Semi-Final en route to the District Championship game. Despite these hard-fought losses, the Aces have nothing to be ashamed of. They have worked hard and managed to qualify for the Class 6A State Playoffs via a second round win against Neshaminy. 
One reason for the team's accomplishments this season stems from the impressive group of seniors that the team boasts. This group consists of Sam Wright '23, Teddy
Pendergrass III '23, Jordan Meekins '23, Andrew Coyne '23, Justin Poles '23, and Brown. Wright, Pendergrass III, and Meekins all intend to take a prep-year this following year for another year of athletics in preparation for competing at the collegiate level. Coyne will continue his education at Ohio State University. Brown is attending the University of Pennsylvania and will continue to play basketball for the prestigious school. Currently, Poles is still exploring options for his academic and athletic future as he
intends on playing soccer at the next level.
Despite LM falling short this year in the Central League Championship and District Championship, they will attempt to win their first State title since 2013. The team has qualified for States thanks to impressive coaching and an array of experienced and committed players.
Leave a Comment