Hands up for Hoopes
Celebrate Women's History month with Coach Hoopes.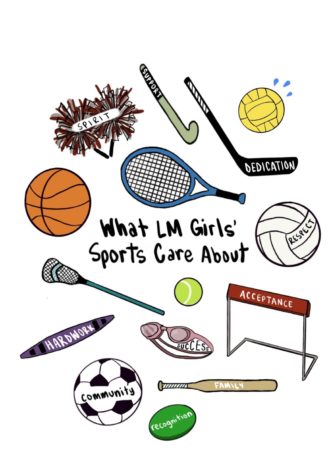 As March begins and the temperatures rise, LM's previously
uninhabited athletic fields fill with eager athletes training for the
upcoming spring season. For some, this means the wait for their
favorite sport has finally come to a close; for others, it means
reuniting and playing with old teammates. For the LM girl's
outdoor track and field team, it means the return of Coach Hoopes.
Coach Sandy Hoopes began teaching at LM in 1971 as a health/
physical education teacher. Right from the moment she joined the staff, it was only a matter of time before she would go on to strongly impact the world of LM athletics forever. Throughout her time at LM, she has coached the girls' field hockey, basketball, volleyball, and track and field teams. Not only did she provide
leadership in these sports, but she is also responsible for founding the girls' track team, and playing a large role in starting the Central Athletic League. Her time and dedication spent guiding high school girls through not only their athletic ventures, but also their overall growth is something LM has been lucky to have for the past 52 years.
Coach Hoopes coached girls' sports during the release of Title IX.  Title IX was a bill passed by the government in 1972 that required girls' sports to receive the same funding and opportunities as their male counterparts. The passing of Title IX changed the face of girls' sports across the country. Specifically at LM, Hoopes reported that, "with the passing of Title IX, respect and support of the female
athletes and athletic teams gradually evolved. This respect increased participation—coaches were hired, schedules were produced, uniforms and equipment were ordered etc." With Title IX in play, girls were assured the same opportunities and resources as the boys team and LM had zero trouble adjusting to this new standard. Hoopes claimed that, "LM is excellent at treating female and male athletic teams with the same funding and respect." Hoopes believes that to this day, Athletic Director Stroup and the administration are (in terms of the track team), "conscious of treating the girls and boys teams equally. They are excellent in making sure we have what we need—uniforms, equipment, coaches, scheduling, bussing, etc.." 
When asked about the female student athletes at LM, Hoopes
describes them as, "smart, challenging, hard working, and fun." In
regards to the track and field team, Hoopes explains that, "My girls always want to know why we do a certain workout. How will it benefit them? They keep me on my toes, which invigorates me." She also
describes that her and the girls can be "serious and we can be silly," and that, "They are there for each other when they are struggling and celebrate with each other when we improve and when we win."
According to the CDC, 52% of girls play youth sports, a significantly higher statistic than past years. Hoopes credits youth sports to helping girls "develop confidence, self-esteem, and a sense of unity." She adds, "Sports helps prevent depression, and girls experience higher states of psychological well-being than girls and women who do not play sports."  Girls shouldn't feel hesitant to participate in sports and thanks to LM, they are highly encouraged by Coach Hoopes and many others to step onto the track, the court, the pool, or the field and give it their all.
Despite the efforts of the district and administration, it is still evident that boys sports at LM receive more attention than girls. Specifically at games and competitions, the boys receive a decently large crowd, while many girls' games are left unattended by the student body. This is a problem that only us, the students, can solve. This spring when our girls teams take the field, let's make sure to show out for our Aces. They work hard and their dedication deserves to be recognized and applauded, just as much as their male counterparts.
Leave a Comment