Road to Altoona?
LM Baseball is preparing to win big this spring.
Each March, as the bitter frost thaws and green grass emerges, members of the LM baseball team eagerly break out their bats, balls, and gloves in preparation of the new season. This year will be no different of course, but the Aces will be looking to break a different cycle: one of repeated mediocrity. 
In 2022, LM regressed after a hot start to the campaign, ending with a
record of 7-9, good for eighth in the Central League. In 2021, they finished tenth at 6-10, and in the season before the pandemic, they placed sixth with a winning record of 8-7 in league play. However, there is hope within the program that this year will be notably different, as the Aces have talent all across the diamond. According to second year head coach Colin Quinn, "The goal for this team is to make the state playoffs. We have the talent to make a deep playoff run and should be in a position to play in June." Still, Quinn knows that talent alone won't be enough. "This team has a ton of potential, but we must work hard to reach our goals," he said. "We are going to keep our eyes on the prize."
A baseball team can only go as far as their pitching staff will take them. Luckily enough, the Aces have a plethora of powerful arms they can turn to. As Justin Spiegler '24 explains, "we definitely have a deep pitching rotation with some good chemistry." With Van Willner '24 and Sam Wright '23 expected to be stellar starters, and Jack Scholz '24, Everett Whalen '23, and Drew Hollowell '23 closing games from out of the bullpen, expectations for the pitching staff this year are sky-high. Willner, one of the Aces' top pitchers last year and recent Lehigh University commit, added that he's "excited [about] some of the young arms that are emerging" to complement the
experienced rotation. Similarly, the infield is plenty talented. With recent D1 commits Matt Rinaldi '23 (Fairfield University) and Hollowell (College of Charleston) lining the infield, the pitching rotation will have some outstanding support behind it. Although defensive errors plagued LM on multiple occasions last year, the program feels confident that improvement will come in 2023. 
While the Aces know they have talent and experience that they can turn to the defensive side of things, where their offensive firepower will come from is a bit more unclear. "Historically, LM Baseball has struggled with
offensive production," Quinn admitted. This year he said, they will be looking to "increase that production with the help of a mix of sophomores and seniors." In particular, the team will be looking for Gus Wright '25 and Toby Myers '25 to come through at the plate, in addition to the more
experienced juniors and seniors. According to Willner, "we have guys from all grades who will step up at the dish and give us some clutch hits," adding that "if our bats come alive, then we're definitely due for a good season."
Others throughout the program are also confident heading into the brand new year, despite the frustrating conclusion to the previous campaign. Spiegler also agreed that the Aces are a program on the rise, declaring that "a district playoff appearance and central league title is definitely the goal,"
assuming everything goes to plan. Quinn added that "the goal for this team is to make the state playoffs," and that he firmly believes his squad has the talent to do so. Of course, the road to Altoona (the site of the state championships)will certainly be a long and windy one for the Aces, who will undoubtedly face their fair share of obstacles. Still, with talent aplenty at almost every position, hopes are high as the season gets underway at South Ardmore Park this March.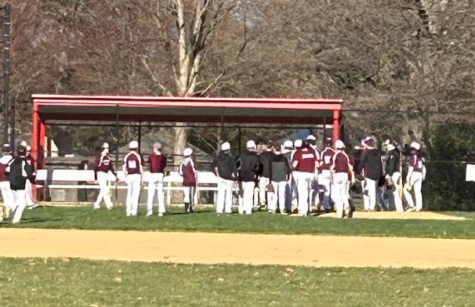 Leave a Comment