Women of Idenlea
An inside look at new historical research right here in Lower Merion!
When Erin Betley first began looking into the history of her Bala Cynwyd home, she expected to find deeds from the previous owners and a fun story to tell her children. What she never expected to find was the tip of a buried tale of local history that would take her months to fully uncover. 
As a result of her exploration, a new historical marker honoring the women of Idenlea is set to be placed along the intersection of North Highland Ave and Heather Road in September or October of 2023. The marker brings attention to the story of early women physicians, suffragists, abolitionists and activists in Bala Cynwyd that had been previously lost to history. 
Betley's research, and the new marker, bring recognition to a family of Quaker activists in the nineteenth and twentieth century. Dr. Hannah E. Longshore, the first woman physician in Pennsylvania, Dr. Jane V. Myers, fellow early woman physician, and Lucretia Blankeburg, renowned suffragist and women's rights activist. 
Longshore gained esteem through groundbreaking public lectures on women's health and anatomy. She later went on to have a forty year long career in medicine, purportedly earning her a "small fortune," and spearheading the way for women in medicine in the United States. She was known for driving her own fleet of horses around the city and racing to her appointments, and was the first woman to teach at a U.S. medical school. After developing one of the largest practices in all of Philadelphia, Longshore and her sister, Dr. Myers, both retired from their extensive medical practices to Idenlea, a parcel of land in Bala Cynwyd, where they spent years advocating for various social causes. Longshore's daughter, Lucretia Blankenburg, grew hugely influential in the late nineteenth and early twentieth century for her work in women's rights and suffrage, as well as civic reform.
The family was deeply influential in activist movements across America. They participated in the Pennsylvania Anti-Slavery Society, Underground Railroad, the Pennsylvania Woman's Suffrage Association, as well as several guilds and clubs of women's rights activists. The women also spoke in front of Congress to advocate for suffrage and civic reform and co-founded the first degree granting women's medical school in the world. They befriended famous activists for abolition and women's rights, like Sojourner Truth, Lucretia Mott, Frederick Douglass, Susan B. Anthony, and Elizabeth Cady Stanton. 
Despite all of this, the contributions of these women have been largely forgotten. The Pennsylvania Historical and Museum Commission uses their iconic blue markers to "capture the stories of people, places, events, and innovations that have affected the lives of Pennsylvanians over the centuries," and this new marker aims to shine light on a history that has been largely untold, and nearly lost.  When asked to describe what has drawn her to keep researching this project, Betley says, "These women shaped the world we now live in—fighting for decades for women to be able to pursue professions like medicine, fighting for basic rights and to protect women and their children, and pushing for the right to vote." Despite this, their story isn't taught in most curriculums, and Betley can guess most residents have never heard of their contributions.  This may be changing, as history teachers like LM's Mr. Grace incorporate local history into their curriculums.  Mr. Grace explains, "Each time we discover there is a real example of some bigger history happening or that happened within the boundaries of Lower Merion, that local history example serves as maybe the best chance for us to really understand the larger history we tell ourselves we should know." These discoveries serve to connect students and teachers to their past, inform our understanding of the present, and serve as a valuable classroom tool. 
As Betley sees it, "We are in a moment when many are awakening to the work done by those whose contributions have been forgotten." For researchers like Betley, it's easy to see how much of history, especially the history of those who've been historically marginalized, goes untold. Until recently, information about the women of Idenlea and their contributions have been inaccessible. The placement of this marker brings their story to light.  Betley warns, "History is all around us, and when stories don't get passed on, they are forgotten." Through learning about and appreciating history, we all can have a role in keeping those histories alive.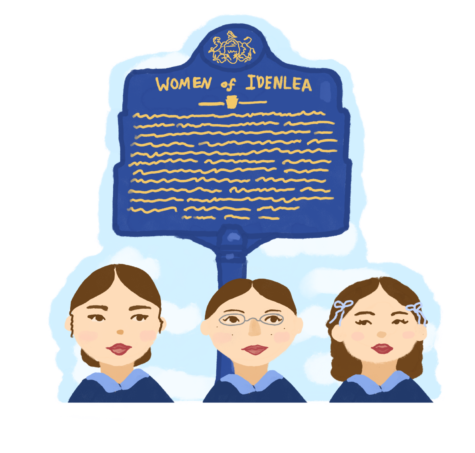 View Comments(1)