Petal power!
Read up on the latest details of the Philadelphia Flower Show and all of the color it brings to our communities!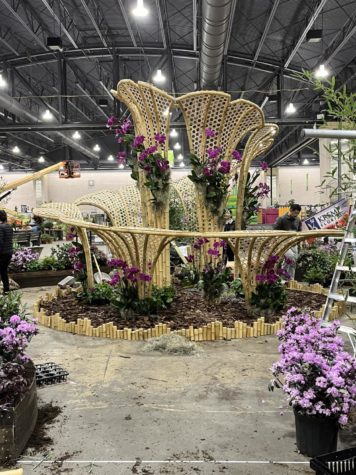 As the spring approaches, the talk of the city is the annual flower show, which runs in the heart of Philadelphia. The Philadelphia Flower Show, the largest and longest-running horticultural event in our country dating all the way back to 1829, attracts more than 250,000 people each March. Whether you're a gardening enthusiast, or just looking for a fun activity, it has a little bit of everything. This includes blooming bouquets, jewelry made from flowers, amateur competitions, crafts, activities, unique plants, ideas for your garden, and much more. There are also food vendors present at the event ready with Philly favorites and dishes that range from many different cultures. You can find anything from a delicious Charcuterie Bento Box to a Mediterranean Mezze Box full of flavor. You can eat, dance to live music, and enjoy the beauty all at once. Plus, it is a rain or shine event, and if you don't want to, you don't even have to step foot outside to get to it! You can walk through to reach the convention center from Jefferson Station without a droplet of rain ever getting on you. 
The show is made to be accessible for all and is a proud example of the "brotherly love" that our city strives for. The planners of the event seek to teach sustainable gardening tactics, display diverse plants, and design concepts. The possibilities with horticulture (which is the art or practice of garden cultivation and management) are endless. According to Health Talk UNC, gardening can not only build self-esteem and happiness, but reduce stress and improve heart health. It can also create tight-knit communities and serve as a great outlet. After talking to Maria Reynolds '24, she offered some great insight into the Flower Show Club. Reynolds shares, "The Flower Show Club has presented a really awesome opportunity for my friends and I too get involved with something creative regarding design and  learn more about horticulture in general." This all furthers the positive message that the Philadelphia Flower Show longs to vocalize. This year, the vibrant and fun event takes place in the Pennsylvania Convention Center from March 4 to March 12, and its theme is "The Garden Electric!" It is inspired by the feeling of joy from giving or receiving flowers. That joy will be captured throughout the artistry that runs through all exhibits in the show. Previous themes have included "In Full Bloom," "Flower Power," and "Wonders of Water." Each brings a new aspect to the show, and is unique to that. 
Another member of the Flower Show Club, Jenna Bellamy '26, was eager to share their efforts regarding the actual show. She mentions that their exhibit is based around the element of a "family tree" and "represents a backyard/patio that a family in the Philadelphia area might use." The most important element to this was that they had to fit it into the garden electric theme that this year brings. This played into the process of them choosing furniture, garden decorations, and most importantly, flowers. All the members of the club have been working non-stop to get ready to set up their display for the show! You can spend just a few hours or all day at the event with tickets that cost just under fifty dollars. The money for the ticket goes towards great causes that benefit communities all around. The PHS website  writes, "[it] helps fund the thousands of trees PHS plants each year, the design and maintenance of our free public gardens for all, and the support of more than 170 community gardens throughout the region." Proceeds also provide low-cost programming, supports jobs, and helps create livelihoods for people working in green jobs. You won't want to miss this spectacular event; and if you happen to go, Reynolds and Bellamy encourage LM students to show their support for their club's awesome display as the exhibit foreshadows the beauty spring brings.
Leave a Comment