Raging over Rihanna
Read this article to find out the latest news on Rihanna and the public's eye review on her fantastic Super Bowl halftime show!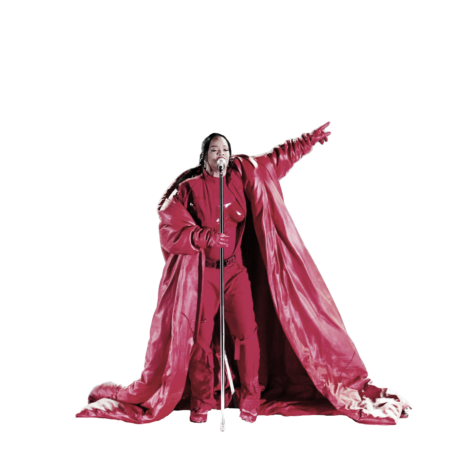 Rihanna hosted her comeback performance at the 2023 Super Bowl in Glendale, Arizona, and let's just say, the queen is back. She returned with a very special guest: not JAY-Z, not Eminem, not Calvin Harris, but her second baby. Confirmed by her representative following her internet-breaking performance, Rihanna and A$AP Rocky are expecting their second child within upcoming months. Despite the announcement of her second pregnancy, an additional surprise was her ability to flaunt twelve "RiRi classics" in a thirteen minute performance so flawlessly. The setlist included numerous hits, including: "Where Have You Been," "Umbrella," "Only Girl (In The World)," and, of course, many more. Essentially, she comfortably and chicly highlighted the key parts of her career in the last couple of decades—similar to her backup dancers, who wore puffy, chic white jackets with iconic silver sunglasses. Unlike those around her, Ri sported a bright, iconic red bodysuit with a puffer red jacket on top as well—all of which was zipped low, revealing to the world that she was pregnant once again. For choreography, it was safe to say that only the best of the best were elected to participate in this performance. The choreo was tightly synchronized, smooth, and swift, which later sparked a trend on TikTok where users imitated the performance's dances. Any one of the dances or songs performed could be considered a highlight, but the show's high point came eight minutes into the performance when her Stay Puft-like dancers ran down the field to the Rihanna-featured Kanye West track, "All of the Lights," which now officially belongs to her since her Super Bowl performance (according to me, duh). Prior to singing this track, RiRi (backed by her followers) paused to promote her cosmetics line while its trumpet-like fanfare was swirling around her. She applied some Fenty Beauty Powder on her face before grabbing the microphone. Now, that is a businesswoman and an artist for you. 
With over 140 million Instagram followers, 1.4 billion dollar net worth, fourteen number one songs, an iconic makeup and skincare brand, it is safe to say that Rihanna owed us nothing, but she gave us everything. I know you're praying she releases her ninth studio album soon, but I promise it will be worth the wait—Rihanna is the only girl in the world who can still have this much hype and success after six  years of releasing no new music or performances. Although the year's performance received much positive response from the media, many people found some of Rihanna's dancing to be suggestive and criticized her for her pregnancy reveal. The singer made headlines as she was recognized for being the first pregnant woman to perform a halftime show at the Superbowl. Regardless of their opinions, many people fail to realize that Rihanna breaks all barriers down for women in the future; opening doors and expressing art in various ways while making a statement after being absent for a long period of time.
Leave a Comment