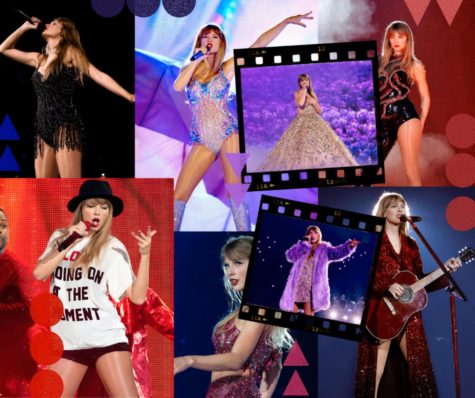 After four years, Taylor Swift is back and better than ever with her sixth headlining concert tour. This tour, "The Eras Tour," began on Friday, March 17 in Glendale, Arizona, or as some Swifties like to call it, "Erazona." If all goes as planned, it will conclude on August 9 in Inglewood, California. The announcement of Swift's tour has been heavily anticipated ever since her tenth studio album Midnights came out and quickly climbed the charts back in October. It is rumored to be her last, at least for a while. This made the demand for seats extremely high. Some fans were not lucky enough to secure tickets after the infamous Ticketmaster fiasco, which included many glitches and "bots" buying tickets before real fans could. Ourania Stois '25 shares that, "I found them hard to get because of the high prices, so I couldn't afford to buy them." Molly Diamondstein '25 agreed  stating, "It was so hard! I waited in the queue for hours and the site kept crashing which was super stressful." For the fans who were able to swipe the tickets, they are in for not only a great concert, but an amazing experience.
Swift is performing a whopping 44 songs, which many fans are excited about. The crowd is in for a treat as they get to listen to over three hours of songs from all ten of her albums. This set list also includes two surprise songs, specially picked for each performance location. Although her concerts for this tour have similarities, with components like her opening song, "Miss Americana and The Heartbreak Prince,'' and her sets, Swift and her team are making sure that there are special pieces that differ at each gig. One way she does this is by interchanging the opening artists. This rotation includes fan favorites like Phoebe Bridgers, Gracie Abrams, Girl in Red, Paramore and five other popular artists. 
Even though these changes are exciting, lots of fans are upset they don't get to experience surprise songs that have already been sung. But, at Swift's last Tampa concert, she announced that songs from her album Midnight's may repeat. Some fans are upset she doesn't include more songs from her third consecutive album Speak Now, but it is rumored that she may announce Speak Now TV, a re-recorded version at one of her upcoming concerts. However, fans are happy with the fact that she plays seven songs from her most recent album Midnights, and her second most recent, Folklore. 
Additionally, she has sixteen outfits throughout the night, each displaying elements from different periods of her career. However, some of these outfits vary from show to show. Many of them include sequins and sparkles, and each one gains more and more screams from the eager spectators. A couple fan favorites include her iconic "f shirt" from her album Red and the nostalgic gold dress from her album Fearless. As many know, Swift's fans, the "Swifties," have been waiting for the day of their concert for months. A lot of these Swifties, especially ones who use TikTok, have looked for easter eggs throughout the past season leading up to the opening night. These easter eggs are hidden messages inside Swift's performances. Billboard adds to this by revealing that what makes Swift's concerts so special is the "hyper-specific planning and eye for gorgeous, perfectly plotted detail—all the way down to the colors painted on her nails during tour rehearsals." This explains why her fans follow in her footsteps, dressing to the nines with an eye for detail. The New York Times shares that, "Fans did not appear to be playing favorites—many of them were dressed as Swift from various eras, as song titles, specific lyrics, or as Swiftie inside jokes." It is clear that Swift adores her fans, and they reciprocate that love.
Swift has three Philadelphia dates at the Wells Fargo Center mapped out for May 12, 13, and 14. She is happy to return to her home state to perform as it will be a full circle moment. She is also looking forward to seeing the fans at all sold out nights, as she broke the all-time record for the most concert tickets sold by an artist in a single day. Whether you are lucky enough to attend or bummed out you can't go, many livestreams and content will be available on the internet. It will surely be an "enchanting" time for all of her fans!