A night to remember for a principal to remember
The Sean A. Hughes Memorial Committee hosted a fundraiser to kick off their efforts, amassing money for a memorial on LM's campus, among other items to honor Mr. Hughes and his legacy.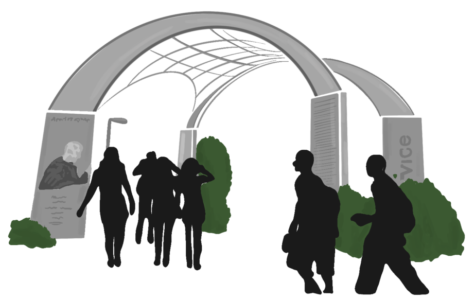 It was "an event that felt like Mr. Hughes," said Spanish teacher Sean Capkin, a member of the Sean A. Hughes Memorial Committee. On March 10, over a year since the death of beloved LM principal Sean Hughes, a memorial fundraiser was held to honor his memory. Hughes had a long and distinguished career serving LMSD, first as a teacher, then as assistant athletic director, athletic director, assistant principal, and finally as principal of LM. Interviews with those who knew him reiterated one consistent theme: his unwavering commitment to the school, its students, and their families. His presence and character left an unforgettable and heartwarming sense of community at LM that persists to this day. The memorial party was a fitting testament to Hughes' impact and legacy, and it was a deeply emotional and moving occasion that brought people together to celebrate his life and the lasting impact he had on so many.
Following his passing, close family and friends of Hughes produced a plethora of ideas to honor his memory: "Can we name the new junior high school after him?" "How about a memorial?" "Is it going to be a field or a building?" "A statue or a mural?" Ultimately, the idea of an active garden was born, bridging the area between LM and the district administration offices. The artist recruited to design and construct the memorial is Harriton High School graduate from the class of 2001, Miguel Antonio Horn. In order to raise money for this memorial, among other projects to honor Hughes' legacy, a chosen committee of Hughes' friends and family from a variety of his communities came together. Once a fund was established, planning for the Sean A. Hughes Memorial Fund Kickoff Party began.
The kickoff event was held at the Great American Pub in Conshohocken. Funds were amassed from tickets for the event, raffle sales from prizes donated by Philadelphia sports teams, local businesses, community families, 50/50 tickets, and other smaller prizes. The Saint Patrick's Day themed party was a colossal success. Altogether, fundraising exceeded expectations and goals, amassing a total of over 16,000 dollars raised.
The Sean A. Hughes Memorial Committee is an extraordinary group comprised of the committee president, Kristi Hughes, student representative Michelle Kelly '23, as well as Hughes' close friends and colleagues, many of whom are LM administrators and teachers. However, one of the most noteworthy attributes of the event was that LM students participated as volunteers.
With so many teachers, LM alumni, and students working together, it united the community, just as Hughes did. The fundraiser was just the beginning. In the future, the committee plans to host a golf outing and 5K run to continue raising money for the memorial, and children's book, scholarships, and other items to honor Hughes' legacy.
Leave a Comment