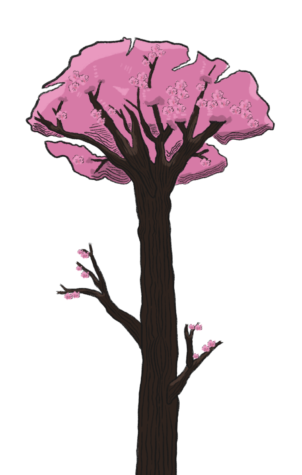 Every year during the beginning of spring you might notice a subtle change in color to the world around you. As you look closer, you can see the wonderfully pink petals floating throughout the city of Philadelphia, some collecting onto the edge of the road. Whether you are on the outskirts of the city in the Shofuso Japanese Cultural Center or on the busy roads that run along the Schuylkill River, the cherry blossoms represent spring's emergence and bring a delightful energy to the city. People all over the Philadelphia region enjoy such flowers, but not many know how they came to be. So how did such beautiful non-native trees come to be in the great city of Philadelphia? 
In 1926, Japan gifted Philadelphia approximately 1,600 cherry blossom trees as a way to congratulate America on its 150 years of independence. Since then, even more cherry blossom trees have been gifted from the Japanese community. In 1933, Japanese citizens within the Fairmount Park area gifted Kelly Drive 500 cherry blossom trees. So, each year during spring, the cherry blossoms within Philadelphia bloom to remind us of the connection and friendship created between two communities. 
It is no secret that if you want to see the cherry blossoms in their full beauty, the place to go is the Shofuso Japanese Cultural Center, with its elegant traditional Japanese style house that you can actually go inside and see for yourself a glimpse of Japanese culture. On a normal day, families and friends can sit under the trees and enjoy a simple picnic, perhaps reminiscing about the Please Touch Museum that sits right behind them. But every year, around April 15, there is a cherry blossom festival celebrated at the Shofuso House to celebrate the beginning of spring! The calming ambiance of the house creates a great contrast with the busy city center it neighbors. During the festival, they have a variety of events, foods, beverages, and even traditional Japanese ceremonies that anyone can enjoy. 
This year's highlights are the kimono fashion show. It presented a stunning variety of styled kimonos, Taiko drumming, traditional dance performances, and cutest of all, a "pet in pink" parade. The cherry blossoms that once bloomed, and still bloom in Japan, now bloom in America to show the friendship and connection between the two bodies of people. The house is surrounded by a body of water containing koi fish and a mini island in the center. It was built in 1953 by architect Junzo Yoshimura using traditional techniques and materials. To honor spring and new beginnings, what better way to celebrate than to look up and gaze at the blossoms swaying gently in the fresh spring breeze.