Avery Bickell '23 scores 100 goals!
Avery Bickell '23 scored 100 career goals while playing for the Varsity girls lacrosse team.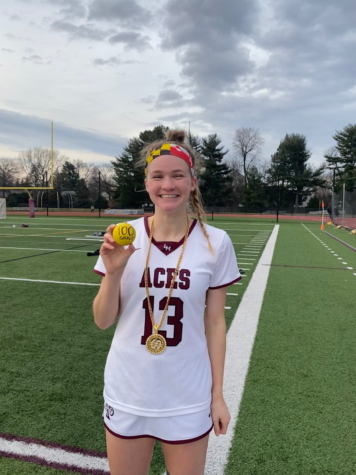 On March 17, Avery Bickell '23 scored her one hundredth career goal for the LM girls Varsity lacrosse team. Bickell, more commonly known as "Bick" has been a key player for the Aces since her freshman year when she began her 100 goal campaign on the varsity team. The quick, standout attacker will continue to play at the University of Maryland. The senior demonstrates a colossal excitement for her college commitment, itching to jump into what she describes as the "most decorated program in womens' lacrosse." She can be identified on the field by her bright red and yellow headband, but you'll have to strain hard to locate her before she's flashed past and scored another goal.  
Pressure is placed on all varsity athletes when they step onto the field, but when having the looming possibility of 100 career goals on the mind, it's easy to crack under pressure. Bickell describes, "I knew before the game there was a chance I would possibly reach 100 goals, but if I thought about it too much it probably wouldn't have happened, so I stayed calm and played my game and I ended up scoring it at our first home game." A milestone as important as this is something an athlete will never forget. Bickell reflects on her goal, describing it as, "I lost my balance and was on the ground after I scored, but I felt great! I had a hard drive to the net, dodged past two defenders then ripped a shot to the top left corner."
Players spend years adding skills and moves into their toolbox. Avery's toolbox appears to be bottomless. She likes to describe herself as a "really crafty player," and she continues to add that she likes to, "find a lot of weird ways of getting the ball in the back of the net, whether it's behind my back or if I'm literally lying on the ground in front of the goal and have to get a shot off." Her coach Brian Feeney agrees, stating that she is a "quick thinker who is crafty and able to create shots even when it appears none are available."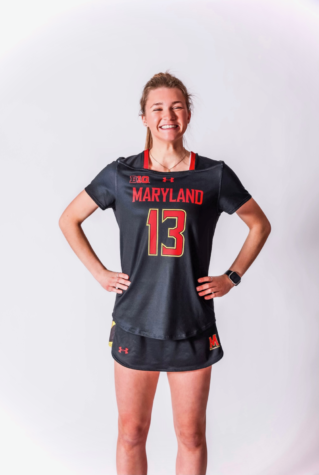 Four years ago, freshman Bickell scored her first goal. Little did she know, it was the first of one hundred that she would score in her LM jersey. She remembers it clearly and treasures the memory. When asked to explain the moment, Bickell responded, "My first official goal for LM was at our very first game at Germantown Academy. I remember winning the draw and sprinting down the field looking to go to goal but also for my teammates. I drew two defenders, pulled away from their double team, then re-dodged, snuck in between them, and finished low on the cage."
Many goals later, the world started to notice. She became an enticing recruit that numerous colleges took notice of. Ultimately, the senior committed to the University of Maryland during her junior year. Currently ranked as the number four womens' lacrosse program in the NCAA, the Terps offer a dedicated group of teammates, coaches, and support staff to help foster Bickell's development. Not only is it an athletic powerhouse, but Bickell shares a strong connection with the school. Bickell has been  sporting their logo on her headband for years and shares that she has "dreamed of playing for Maryland since I was little." She exclaims, "I'm super excited to play for the GOAT, my head coach, Cathy Reese. I can't wait to be a part of the next generation of Terps!" 
Of course, her legendary campaign could never have happened without hard work and dedication. But behind every machine is a group of engineers tinkering and carefully watching each gear and wire. Bickell credits much of her great success to her "amazing coaches, teammates, and family for supporting [her] crazy dream." Bickell is surrounded by driven teammates who have enjoyed great success this season, collectively boasting a winning record.
Leave a Comment