Serving the competition
The boys volleyball team has been putting in the work to become a great team.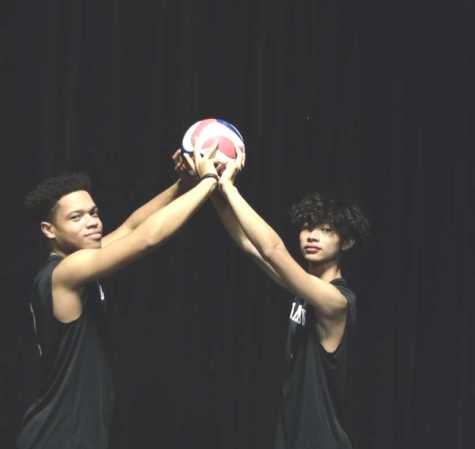 Each spring, as the school year winds down to a close, the boy's volleyball team returns to the court and warms up their arms for another campaign. This year, the Aces are filled with young, talented, and eager players looking to improve and progress their game. Despite fielding a varsity team with mostly sophomores and only one returning member, the team has played competitively over the course of the season, despite having  a losing record. While they may be hungry for more wins in the present, players are extremely optimistic about the future of the program. As the only returning varsity player, outside hitter Tristen Arellano '25 has shined as an explosive playmaker, slamming down spike after spike. He showed out in LM's game against Avon Grove HS with a remarkable 16 kills (plays resulting in points for his team). Defensive specialist Joshua Dang '25 has also contributed with 14 digs (saving a point) in one game against Spring-Ford HS. Dang says he is "proud of what we have been able to accomplish and the improvement my whole team has made from where we started as freshmen last year." Overall, this is a close-knit and passionate group of young men who are ready to show the Central League what they can really do.
Despite being such a young group, this unit plays like a machine, churning out aces, sets, and serves on the court. Of course, none of that could be possible without working hard to perfect their craft day in and day out. The Aces routinely bring their best to practices, as the real work is done well before game day. Intense drills centered around serving, spiking, and passing fuel their success. The team knows that their hard work will pay off, and Dang is "looking forward to sticking with the team and showing how good [they] can be in the future."
Unfortunately, the Aces have struggled in past seasons, finishing with a losing record the last two years. They are looking to get back on track and close out this season with some big wins against Avon Grove, Haverford, and North Penn. If they can finish the season with a few more ticks in the win column, the momentum could carry them towards a stunningly successful season in 2024. 
While the playoffs may be out of the picture at the moment, this team remains confident that brighter days lie on the horizon. The development of their many sophomores is sure to bebe integral to the team's success, as their full potential remains relatively unknown. Coach Marie Hamilton has an important task ahead of her, training a raw group of players who have a strong passion for the game and want to get out there and dominate. So, don't be surprised when you're reading an article about LM boys' volleyball and their sudden resurgence this time next year.
Leave a Comment