Club sports vs. school sports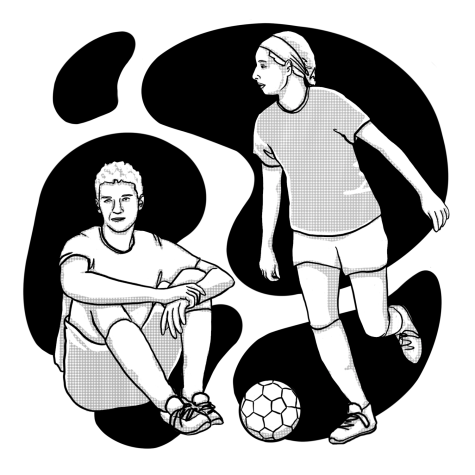 For student athletes, the coronavirus pandemic has brought a lot of concerns surrounding the fall sports season. After the spring season ended before it truly began, and with winter sports being tragically cut short, many of those involved with athletics were anxiously waiting to return to the playing field. However, as the season approached, a lot of uncertainty came with it. Club sports resumed over the summer, with players now participating in practices and tournaments against out-of-state teams. School activities, on the other hand, were still up in the air.
School sports were finally able to resume hosting organized practices back in August. However, no physical contact was allowed, and social distancing was mandated. Still, the actual season was in question, and dates as far back as January were being thrown around for a plausible start time. Now, the final decisions have been left up to each individual district, but there are still strict guidelines in place for all practices. For instance, sports have specific days when they are allowed to run practices, and no two teams can share the same field space. This means some teams only get time on the turf once a week, and coaches get less time to train. Meanwhile, club teams are able to play with full contact and planning for games in the near future.
So, what allows for these stark differences in flexibility? A lot of it has to do with liability. For club sports, it is up to individuals to decide if they are comfortable or not going back to full participation. With school sports, not only are coaches held accountable for the safety of their players, but the district could be sued if guidelines are broken. This has led to rigid rules to ensure that the damage is minimal.
Despite the differences in playing capabilities, one significant challenge club sports currently have to take care of is finding available field space to play on. Owners of property, such as high schools who lend out their turf, are allowed to deny training time to any club team. This means that finding a place to practice can be tricky for clubs who don't have consistent access to facilities. The rules for these practices are mostly decided by coaches of individual teams. Some have strict rules, requiring masks in close contact drills, while others leave it up to the players.
The current rule differences have made the transition between participating in club and school sports fairly awkward, and has inevitably left those exclusively participating in school sports reasonably frustrated. In the end, the vast majority of athletes have been attempting to take every necessary precaution for ensuring that LM might eventually return to a more "normal" life. It is unclear if we will ever get back to our pre-COVID routines anytime soon, or how long sports will be able to play. Athletes could have their season cut short once again, or they could manage to play through their whole schedule. The only thing we do know is that we must listen to those whose job it is to keep us safe and follow any guidelines they put in place. This will give our student athletes the best chance to compete for a Central League title without further setbacks or cancellations.
Leave a Comment