The final call for fall sports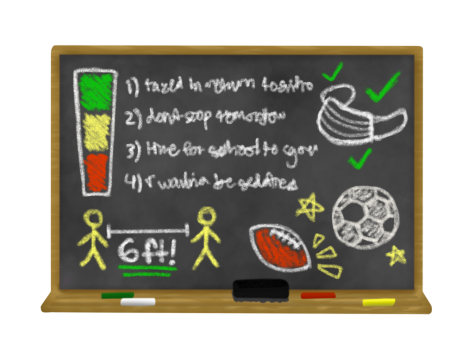 It's official: LM will play fall sports this year. The LMSD School Board recently voted to formally adopt the Central League's thought-out plan for fall athletics. Pre-season practices finally commenced for LM on Tuesday, September 29, with league competition officially starting this month. Competitions will be played entirely within the Central League, and, for nearly all fall sports, the PIAA playoffs have been scheduled to begun in late October and November.
If student-athletes had been unsure about their fall seasons until this announcement, they cannot be blamed. Communication about high school sports in the midst of the COVID-19 pandemic has often been contradictory, to say the least, and has changed rapidly. The source of some confusion around fall sports throughout Pennsylvania has been the ongoing feud between the office of Governor Tom Wolf and the PIAA, which governs all of the high school sports in Pennsylvania.
On August 6, Governor Wolf issued a recommendation that fall sports should be postponed until at least January 1, citing, "significant health risks." That same day, the PIAA released a statement in response to Wolf's recommendation saying, "we are tremendously disappointed in this decision." Since his original controversial announcement, Governor Wolf has indicated that the final decisions for playing this fall will ultimately be made by the administrators and school boards in their respective districts.
Whether LM athletes are in practice or participating in interscholastic competitions, they will be responsible for following the health and safety guidelines set out by the state, the PIAA, and Montgomery County. In the weeks after the announcements were made, the governor's office has published detailed guidelines on topics such as face coverings, limited number of spectators, health screenings, and social distancing. Now in line with one another, the PIAA has published similar information. Additionally, the Montgomery County Office of Public Health has published compatible mandates; districts who choose to continue fielding fall sports teams must be able to assist in contact tracing by taking attendance at competitions and maintaining contact information of attendees.
The county also released a tiered plan that relies on the number of COVID-19 cases and the rate of test positivity in the county to determine the level of activity permitted in low, moderate, and high-contact sports. LM fall sports in the low-contact category include cross country and golf, and examples of moderate-contact fall sports are field hockey and soccer. At the time this article was written, the county's guidance allows for competition in both low-contact and moderate sports, and distanced practices and drills for higher-contact sports.
The two fall sports at LM currently classified as higher-contact are football and water polo. The district has stated that it will follow the county's guidelines and not play these sports until the correct metrics have been reached. With an abundance of discontent displayed by both LM and Harriton's football teams in the days following their announcement, the district has promised to do whatever they can to salvage their fall season.
Leave a Comment