Fun fresh fall!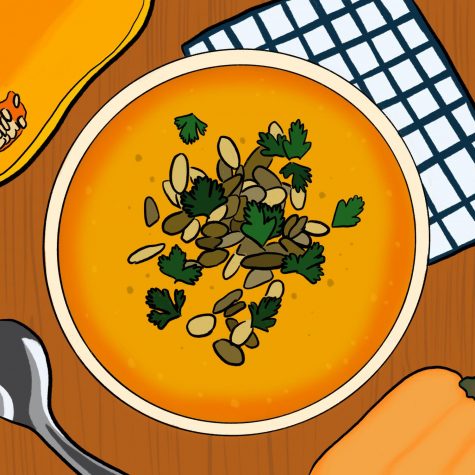 Fall is here and it's the best time of the year to eat, so let's check out some delicious recipes that everyone can cook!
Crunchy Churro French Toast Sticks
The ultimate recipe to make on a chilly Sunday morning: crunchy churro french toast sticks! They're warm, rich and most of all, sweet. Begin by removing the crust from a loaf of brioche bread and cutting them into large square pieces. Set aside the bread and crush two cups of cornflakes in a baggie and then pour them into a shallow dish. Now that the bread and cornflakes have been prepared, set it aside. Mix three eggs, three tablespoons of milk, two teaspoons of brown sugar, two teaspoons of cinnamon, and one teaspoon of vanilla in a bowl. In a separate bowl, combine half a cup of granulated sugar and two tablespoons of cinnamon into a bowl. After preparing and setting aside all the ingredients, continue by heating up a skillet with a tablespoon of butter. As the butter melts, dip the bread into the egg mixture on all sides and coat it in crushed cornflakes. Grill the french toast until it looks golden brown, then immediately roll it in the cinnamon sugar mixture. Once all of it is cooked, enjoy with syrup and chocolate sauce!
Butternut Squash Soup
Who doesn't like a good butternut squash soup for a fall afternoon? Butternut squash is one of the best comfort foods out there! To start, peel and remove the seeds from one butternut squash, then peel two potatoes and cut both the butternut squash and potatoes into cubes. Next, pre-heat the oven to 400 degrees. On a large baking sheet, toss the butternut squash and potatoes with two tablespoons of olive oil and season generously with salt and pepper. Once the oven has been preheated, place the large baking sheet in the oven for 25 minutes. Meanwhile, begin chopping one onion, one stock of celery and one large carrot. In a large pot over medium heat, melt one tablespoon of butter and one tablespoon of olive oil. Add the vegetables, and cook for seven to ten minutes or until the vegetables have softened, then season with salt, pepper, and one tablespoon of thyme. Pour the butternut squash and potatoes into the pot along with one quart of low-sodium chicken broth, and allow the contents to simmer for ten minutes. Then, finish off by transferring the mixture into a blender, creating a smooth consistency. Finally, garnish with thyme and serve!
Honey Salmon
Sweet and savory is the perfect blend for the fall season and a honey garlic glazed salmon will surely satisfy that craving. First, with paper towels, pat dry four, six ounce salmon fillets and then set them aside. Begin finely cutting three garlic cloves and slicing a lemon into round pieces. Then in a medium size bowl, whisk together one third a cup of honey, one fourth a cup of soy sauce, two tablespoons of lemon juice, and one teaspoon of red pepper flakes. Set the mixture aside, and heat a skillet on medium to high heat with two tablespoons of extra-virgin olive oil. Wait until the oil is hot (but not smoking) and add the salmon skin-side up. Then, season each piece with a few pinches of salt and pepper. Once the salmon has been cooking for about six minutes or until deeply golden, flip and add a tablespoon of extra-virgin olive oil. Continue to cook the salmon and add the finely cut garlic for a minute. Add the honey mixture and sliced lemons. Let the salmon cook until one third of the sauce is reduced, turn off the heat and allow the salmon to baste. Garnish the dish with sliced lemons and, of course, enjoy!
Fall is a wonderful time of the year to gather with friends and family and these dishes are perfect for making together!
Leave a Comment