Happy Holidays: Pandemic Edition
With COVID-19 on the rise, Holidays will look different this year. LM students describe the changes they're making, and the hope they still find despite them.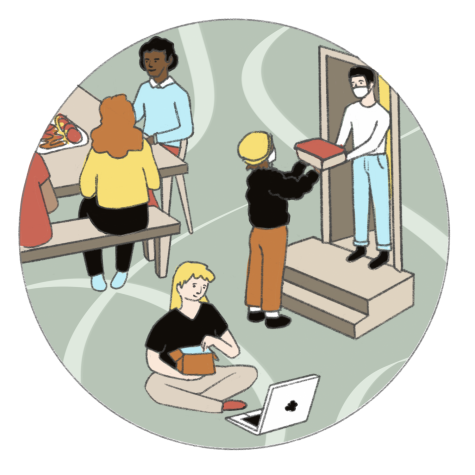 Who wouldn't look forward to this time of the year? Very little compares to the joy of seeing family, receiving and exchanging gifts, and celebrating traditions and culture. But this year, the festivities that are usually celebrated have to undergo some necessary modifications due to COVID-19. Generally, we would greet a group of family and friends with a hug or handshake and say, "the more, the merrier!" Although we cannot adhere to such customs given the circumstances this year, we can still find ways to enjoy the holiday season. Because COVID-19 is still a prevalent factor in our lives that needs to be taken seriously, many LM students and their families are taking amended, safe steps to celebrate this year.
As LM students recently returned from Thanksgiving break, the celebrations of many students and their families were dissimilar with years past. Eva Delmonte '23 had some changes in her usual holiday plans. "Usually on Thanksgiving when we get together with my dad's side of the family, we have a huge meal at one of his siblings' houses," she said. Unfortunately, Delmonte's family couldn't all get together this year due to there being "so many of us on my Dad's side." Instead, only Delmonte's grandma attended their family's Thanksgiving celebration, where they were able to enjoy a meal of delicious foods such as turkey, soup, and pasta. Michael Aizenberg '23 also described not being able to celebrate with as many people as he had in previous years. "Normally we have guests or we go to a family friend's house," he stated, "but this year we are doing it alone." But despite these changes, Aizenberg hasn't lost the spirit of Thanksgiving. "I'm thankful for my awesome family and friends."
Alveena Khoday '23 celebrated Diwali, the Indian Festival of Lights, which is celebrated as the return of Lord Ram who defeated the demon king after fourteen years in exile. Diwali is made up of five days: Dhanteras, Naraka Chaturdashi, Lakshmi Puja, Padwa, and Bhai Dooj. Throughout these days, Khoday and her family celebrated many activities as they usually would including cleaning the house, making food, worshipping the goddess of wealth named Lakshmi, lighting firecrackers, and exchanging gifts. Khoday says Diwali is a special holiday for her. "Because I have grown up in America, sometimes I feel that I am not loyal to my Indian background, but celebrating festivals like Diwali with my family reminds me of my heritage along with eating extremely delicious food." Even though her family's celebrations were slightly different this year, she was still able to share the festivities of this significant holiday with those around her. "Usually during Diwali, we have a huge party with friends and family, but this year we had a Zoom celebration instead. Even with everything going on, I also was able to exchange some food with our neighbors. It was interesting to see how it all worked out."
This coming December, there are of course many more holidays to be celebrated. "Normally, I celebrate Hanukkah with my immediate family at home," says Ari Steinfeld '23. "This year, I'll still be staying at home but meeting on Zoom with some other members from beyond our immediate family." Steinfeld plans to do prayers over Zoom and open presents with their family. "Hanukkah is more of a holiday celebrated in the home with family," says Charlotte Jacobson '24. "The most significant difference is that there will not be any Hanukkah parties that my family will be attending." Jacobson will still be able to celebrate her usual traditions this year, such as lighting the menorah, playing dreidel, and eating delicious fried foods.
Despite the tumultuous backdrop of this year's season, Aiko Palaypayon '23 is very excited to celebrate Christmas. "During the Christmas season, my family sets up decorations of Jesus' nativity in front of our Christmas tree. In past years, I really enjoyed assembling the Christmas tree, and finding the old holiday crafts I made in elementary school," Palaypayon comments. Unfortunately, her tradition of eating dimsum on Christmas Day may need to take place at home, but she will still be able to continue her other traditions such as buying presents for her friends. Nathan Donagi '24 is also excited to give gifts, but it comes with a twist. "My family is quarantining gifts this year," in order to make sure they're COVID-free, "but it'll still be an exciting experience," Donagi says. Emmi Wu '23 remarks that she has plans to look forward to as well, "I plan on baking cookies, since I found some great recipes over quarantine, and watching movies. I'm also hoping that it'll snow this year so I can play in the snow like the good old days." Even with the pandemic, some traditions are unstoppable.
This year has been anything but normal, but when it comes to celebrating traditions, LM students are making the best out of a difficult situation and finding ways to still have some festive fun.
Leave a Comment