The other language
The option to learn American Sign Language would eliminate some obstacles for deaf people.
Looking through the annual LM Program Planning Guide, students and parents can see the myriad of different courses to choose from for the upcoming year. The offerings range from manifold core classes to electives that allow students to explore their interests. Most people—including myself—would agree that LM does a good job of offering enough opportunities to prepare students not only for college, but also for the real world. One way our school does this is by providing four different world language classes at various levels. Starting from the introductory level, language classes eventually increase in difficulty. The highest level mimics the format of college classes. Although these courses provide in-depth instruction to students, the language department itself is lacking in one respect: it completely overlooks the millions of deaf people around the world who use sign language, and the communication challenges their disability comes with. 
Hearing loss is not uncommon in the US. According to Gallaudet University, 600,000 Americans are either deaf or suffer from hearing loss. American Sign Language (ASL) is a non-verbal language in which the speaker uses hands and expressions to communicate. It provides a solution to those who cannot hear or speak so they are able to communicate with their peers and colleagues. Yet, few people use or even know this necessary language.
Our school provides adequate resources for Spanish, French, Latin, and Japanese classes. However, it is my belief that LM could provide more opportunities for students to understand ASL. Providing ASL classes would make us, as a community, one step closer to closing the gap between those wh and their hearing peers. As we grow up, such courses would give us more opportunities to connect and interact with others who have different backgrounds. 
Marlee Matlin, a deaf actress and an activist for the deaf community, sums up why we should be offering ASL classes: "Hearing people," she says, "have the ability to remove barriers that prevent deaf people from achieving their dreams." Marlene Chmielewski, a senior at LM, had this goal in mind when she founded the ASL club in the fall of 2020 with fellow seniors, Jinx Allison and Sagi Shdaimah. After her cousins were born deaf, Marlene enrolled in an ASL course the following summer. "I learned that deaf people can do so many things in our community, but sometimes they need special accommodations to enjoy life like the rest of us," she says. "Sometimes these services, such as closed captioning or the provision of a sign interpreter, are difficult to locate." According to the sponsor, Samantha Parks, the club has "hopes of raising awareness of the deaf and hard-of-hearing culture in our community, while also learning some of the language." 
Clearly, this club has been a great success, with over 180 members."We have also learned some basic sign such as the alphabet, numbers, days of the week, holidays and simple greetings," adds Parks. Although the ASL club has evidently been helpful in eliminating language barriers across the two communities, it is only the basic foundation for doing so. If LM provided official ASL classes that not only taught sign language but also resources for helping our deaf peers, it would allow for greater acceptance and unity among differently abled people. 
Especially during these challenging times, we need to keep in mind that not everyone has the same abilities as us. Other people within our own community face difficult challenges which we might not have even considered. The things we take for granted provide obstacles for others to enjoy their lives. Therefore, having the option to learn ASL would be a great step to start getting rid of the obstacles which deaf people face.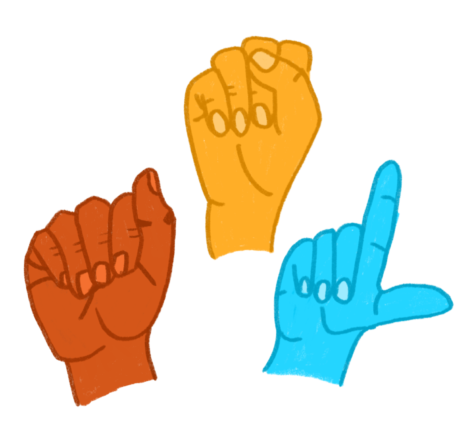 Leave a Comment