The dark side of fast furniture
Fast furniture is having negative effects on the environment.
The pandemic contributed to a boom in micro trend furniture and home decor. Micro trends—a term usually designated to cheap, on trend, fashion items that cycle through the internet as fast as wildfire and contribute to the issue of fast fashion and sustainability—can also be a term used to describe the room decor aesthetics that flood social media. Fast fashion has been a long standing problem in society, but fast furniture is relatively new. When the pandemic started, people began spending a lot more time in their homes and on their phones, leading to the subsequent hyper fixations on different aesthetics and room decor. Society's relationship with furniture and home decor has changed and become more of a focus for many individuals. But what is the consequence of fast furniture micro trends?
Social media is the main contributor to the rise in fast furniture. Every week there is a new micro trend popping up, whether it involves clothes, shoes, food, or home decor. Fast fashions' negative effects are widely known and easier for most people to recognize, but fast furniture and home decor is overlooked. Most people, when watching someone unbox a thousand dollars worth of cheap clothes online, can easily recognize the negative impact that person is creating on the environment. However, watching someone on social media completely redo their room every season to fit a new aesthetic doesn't register as something that is detrimental to the environment. Micro trends surrounding decor usually found on social media, such as plastic vines and photo walls, often find themselves in landfills just months after being purchased. Types of fast furniture are built poorly and only last a few years to ensure more business. The United States Environmental Protection Agency data shows that over 9,500 tons of furniture ends up in landfills, compared to only 40 tons of furniture recycled (US EPA). The United States alone has over 10,000 landfills, including ones that are active and inactive. Landfills are beneficial to society, but dangerous for the environment. According to the Environmental Center at the University of Colorado Boulder, the release of methane gas is the most pressing issue regarding landfills' effects on the environment. Methane is nearly 85 times more potent than carbon dioxide at absorbing the sun's heat, contributing to its status as a large influencer of climate change. In addition to methane, several other gasses are produced as a result of fast furniture in landfills.
So what can we do to stop contributing to fast furniture and micro-trend home decor? The first step is to look for red flags, such as the material of a product, prior to a purchase. If a piece is made out of unsustainable materials that will not last more than a few years, pass and opt for more high quality pieces. Finding good quality furniture and decor does not always have to be expensive. Second hand stores are often stacked with furniture meant to last generations. Only buy things that you will be able to use for years and can be adapted to any space or style. Be conscious of the materials and price of home decor, if an item is ridiculously cheap, it most likely will not last long. Attempt to buy mainly donatable or recyclable items and avoid contributing to landfills overflowing with poorly made home items. Finally, try to avoid micro trends and fill your space with items you can use and enjoy for years. 
Works Cited
US EPA, OLEM. "Durable Goods: Product-Specific Data." US EPA, 7 Sept. 2017, www.epa.gov/facts-and-figures-about-materials-waste-and-recycling/durable-goods-product-specific-data#FurnitureandFurnishings.
Vasarhelyi, Kayla. "The Hidden Damage of Landfills." Environmental Center, 15 Apr. 2021, www.colorado.edu/ecenter/2021/04/15/hidden-damage-landfills.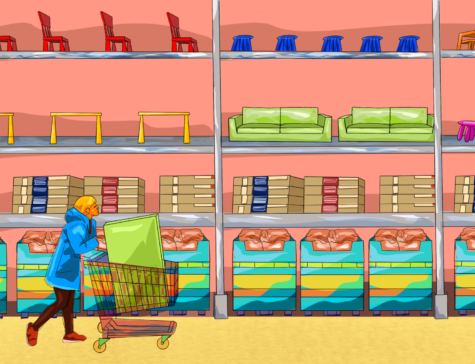 Leave a Comment