Lockers: underutilized and overlooked
Lela Miller comments on LM students' aversion to using lockers.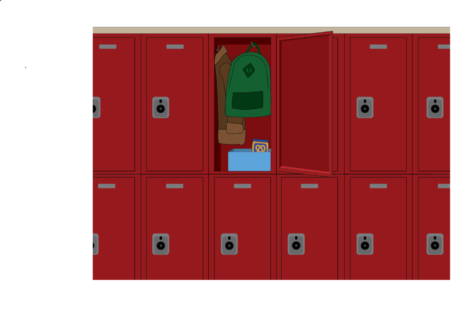 For some reason, there is a stigma at LM around lockers. After using them all three years of middle school, they became a thing of the past. I remember as a freshman asking some of the upperclassmen if they used a locker and they told me that it was "weird" to use them in high school. I accepted this as the truth, despite the hundreds of lockers lining every hallway in the building. 
Every day of school last year, I would arrive early lugging my track bag, lunch, instrument, backpack, and sometimes a winter coat. Over the course of the fifteen minutes I had before class started, I would rush to the orchestra room, down to the locker room on the bottom floor, and some days, all the way out to the chem building or up to the third floor. Just by dropping off my bags, I felt as though I had walked a mile before my day even started. Some days, when I did not get to school early enough, I would drop off my instrument and then have to carry my track bag and lunch around with me for the rest of the day. This was even more inconvenient than the trips to the locker room. 
Even through all of these struggles, I had never once thought to get myself a locker. The idea that lockers are not socially acceptable to use in highschool was so normalized. However, recently I have realized that anything as practical and useful as a locker should be considered completely normal. LM has many lockers that are so easily accessible that if you are someone who brings extra bags to school, you are making your life so much harder by not utilizing them. 
I was inspired to get a locker by my friend, Emmie Luo '24. She explained that the reason she got a locker was, "to have somewhere to put my track bag. Every day, I have to go up to the third floor for announcements, the bottom floor to the locker room and then all the way up to the third floor which is extremely inconvenient." Not only was the decision necessary, but the process was even more convenient than she had previously expected. Luo continued, stating, "I requested a locker in the main office, and they asked me where in the school I wanted it. I was hoping that I would get a good spot, but I was actually able to choose the specific location in the building to put my locker, which made it even more convenient." 
Not only are lockers incredibly practical with their location and functionality, but they can also be extremely fun. No one has room in their bags to bring countless snacks to school every day, but with a locker, you can stock up for weeks and stop there whenever you might be hungry. And, though I have not engaged in this yet, decorating your locker is a fun way to personalize your space. Many of us participated in this in middle school, and loved every second of it. Why do we act like we are above that now?
If you are someone that packs lunch, plays a sport, hates running down to the locker room everyday, wants to have a place to stash some snacks, wears a winter coat when it is cold out, or misses the fun locker decorations from your middle school days, you should definitely consider getting a locker.
Leave a Comment