College athletics recruitment is taxing under the best of circumstances, and the COVID-19 pandemic has only made it more difficult. As LM diver Amari Brown-Swint '21 describes it, "stress on stress!"
One critical issue for potential recruits this year is that the structural conditions of this process have drastically changed. Ben Birch '21, a member of the LM baseball team, says, "some schools are taking less recruits because of money concerns and some schools are only taking kids that they have been talking to for a while." To make matters worse, NCAA Division 1 athletics are currently in a "dead period," meaning that coaches cannot meet with recruits, scout them in-person, or invite them onto campus for neither official nor unofficial visits.
Recruiting camps were an important part of Sage O'Connor's '21 recruitment. She committed to play field hockey for Drexel University last year, after she was offered a scholarship on an official visit that came out of a strong performance at one of the team's camps. Another newfound obstacle she has noticed is that "the colleges can't have clinics, which is a big place they recruit from."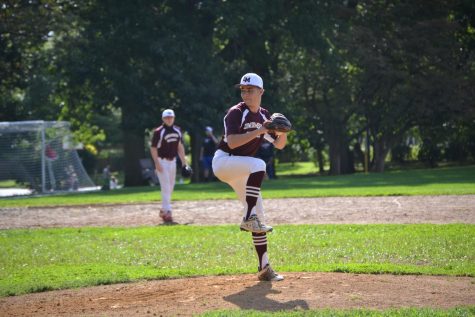 And without in-person recruiting, athletes need to get creative. Eric Blum '21, another player on the LM baseball team, explains, "instead of meeting the coaches in-person and performing for them, a lot of players relied on posting their videos to a recruiting website or Youtube." But Blum agrees that something is certainly lost without a campus visit. He mentions, "we don't get the opportunity to visit and get an experience in the environment."
Even the way recruits speak to coaches has dramatically changed. Allison Stewart '21 recently committed to swim at Rider University. Of the transition to recruiting during the pandemic, she describes, "everything pretty much stopped. We still are not allowed to meet any D1 coaches in-person, so I've only ever met my team and coaches on Zoom."
Brown-Swint has encountered similar issues with her future team at North Carolina State University. Throughout the recruiting process, she "had to send everything over email," and has still not even met her coaches or teammates in-person.
Stewart, Brown-Swint, and O'Connor are among the athletes who have committed, but many others are still working towards an offer. Birch is one of them. On a normal year, he believes he would already "be having serious talks with a few schools this time of year, and probably would've made a decision within the next month or two, if not earlier." The disruption of the COVID-19 pandemic has not only affected the timing of his recruiting process, but its potential outcomes as well. Birch adds, "I may go to junior college for a year or two, I may do a prep year, or I may just decide on a regular school."
Blum also believes his own chances of playing in college are not at risk, but that is not the case for everyone. He says, "I have multiple teammates on my summer baseball team that definitely lost the chance to play for higher division colleges."
There will be student-athletes at LM and other high schools around the country who lose out on scholarships and the opportunity to play college sports, especially as the sports world will continue to feel the effects of the pandemic for years to come. But not all hope is lost. O'Connor's advice to uncommitted athletes is to "keep practicing! And stay focused on your goals." Stewart adds, "reach out to schools and coaches, and advocate for yourself." She even finds a bright side, noting, "many teams' rosters are very fluid right now, so there are definitely spots to be had." Brown-Swint is equally optimistic. She encourages other athletes, "just don't give up, you will get through it."