Clubbing in hybrid
How have clubs adjusted their practices to overcome the challenges posed by COVID-19?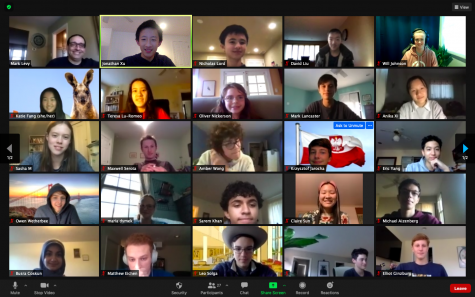 Clubs and extracurriculars that once occupied a huge portion of students' time must now make drastic changes to adapt to the hybrid learning plan. Activities like the Debate Club, Science Olympiad, and various culture clubs have gone completely virtual and must adjust their plans to fit these new circumstances.
Last year, the Debate Club met every Thursday and attended monthly scrimmages. During meetings, the members would break into groups based on the different debate types, hold mock debates, and discuss contentions for upcoming scrimmages. Although the contents of Debate Club have stayed roughly the same, the formatting has changed quite dramatically. Now, utilizing the popular conferencing service Zoom, the members are often able to meet online every Wednesday and then split off into three breakout rooms based on the type of debate: Lincoln-Douglas, Public Forum, and Parliamentary. At the meetings, members still hold mock debates and review their arguments, however, the online format presents unique challenges. For example, for students who are not debating individually, it became much more difficult to communicate with their partner during these preparatory competitions. Being unable to talk directly to their partner, they had to use either the Zoom chat feature or a separate communication service to stay in touch during the competition. Additionally, the club used to have much larger tournaments, but due to the pandemic, competitions have become very complicated to plan as members can now only attend them virtually. Fortunately, the officers of the Debate, Club Elliot Ginzburg '21, Teresa Lu-Romeo '21, Emily Shang '21, Jack Shapiro '22, Jonathan Xu '22, and advisor, Mark Levy, who teaches Global Studies, have still found ways for members to stay involved, including virtual scrimmages with other schools.
Another club which has been overcoming the challenges of the new schedule is Science Olympiad. They have proposed many plans in order to maintain student participation, including Satellite SO, Mini SO, and MY SO. In Satellite SO, schools compete at their own campuses under the supervision of their coaches, meanwhile Mini SO is completely virtual and solely focused on test events, and for MY SO, students would learn about a different topic each month and then attend a STEM Showdown at the end of the learning period. Furthermore, the club captains Noa Cutler '22, Harper Segal '21, Lu-Romeo, Shang, and Owen Wetherbee '21, have thought of many new creative initiatives to make sure the members stay interested and learning, from test tallying and weekly microgoals to team bonding game nights. Their most recent invitational, hosted by The University of Texas at Austin, was in the Mini SO format. This invitational was completely virtual, and through Scilympiad they were able to provide timed tests online and ended the competition with an online awards ceremony. Wetherbee writes that he's "very happy with how Science Olympiad is working considering all the barriers there are when it has to be done virtually. In terms of the organization as a whole, National Science Olympiad has been very proactive about getting things together so that competitions can happen virtually. Since a lot of Science Olympiad is about learning, the core of our club remains because we can still share resources, study, and motivate each other." Wetherbee then mentioned three aspects in which Science Olympiad has been modified, including the ability to collaborate with each other, participate in the hands-on, in-person components, and the integration of new members. Although Science Olympiad has gone through many changes to stay running during these difficult times, they have stayed true to their goal of keeping students interested in STEM.
Many culture clubs have also changed the formatting of how they operate. For example, the Asian Culture Club has turned to many virtual methods to connect its members. Some of their new initiatives include movie nights, game nights, and virtual discussions. As Asian Culture Club officer, Anika Xi '23 describes, "Asian Culture Club has been able to adapt to the online climate by using Zoom and other platforms such as Discord for communication. It's definitely been odd to host events and not have in person interactions but it also allows us to explore different meeting ideas we might not otherwise be able to do and have more flexibility in general as well." The Classics Club is also planning on taking similar approaches, from movie nights to cook alongs and virtual competitions. During Classics Club's meetings, the members learned about Certamen, some of the NJCL chapter activities, played Kahoot, and were informed of what the plan was going forward. Both of these culture clubs are trying to find new ways to not only integrate new members, but also to create bonds between existing members.
Each club has faced a unique set of challenges in these difficult times. The Debate Club and Science Olympiad have found ways to continue competing virtually while culture clubs have discovered new methods to bring its members together. In a time like this, it is more important than ever to join the student body together through clubs and provide the students with new engaging ways to spend their time.
Leave a Comment