Taylor Swift bases album off her experiences during a Merionite layout
This is a satirical piece about a fake story. I wrote about how Taylor Swift was a co-advisor to Mr. Henneberry but due to the trauma of working in the Merionite room, she quit this job and based her new (real) album off of these experiences.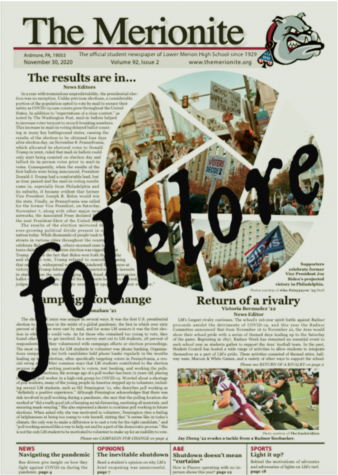 Taylor Swift, the assistant Merionite advisor to Charles Henneberry, devastatingly stepped down from her position in late July this summer. Her absence was a result of the trauma that takes place each layout week in the renowned Merionite room. Swift found herself at a crossroads before she decided to part ways with LM's newspaper. Should she marvel her way through the pain of Elliot Ginzburg '21 and Dhaval Sharma's '21 complaints due to poor editor attendance? Or does she escape the toxicity of the late night dinner debate when the opportunity arises? Luckily for Swift, the opportunity was present, as she channeled the agony and suffering from her time with the Merionite into the skill she does best: writing songs to listen to while crying in the shower.
During the saddening and dull quarantine due to the outbreak of COVID-19, Swift picked back up on songwriting and eventually released her album titled "folklore" this summer. This was her first alternative album and ultimately ended up soaring to the top of the Billboard charts. "Folklore's" aesthetic is what some artists would consider quite whimsical, but in a less Disney princess sort of fashion. The consistent analogies in her songs such as "exile" featuring Bon Iver and "cardigan" reference the isolation that is felt when wandering through the forest. This sensation is similar to Swift's lonesome self when The Merionite staff all insisted on ordering in Chipotle to support the Class of 2021 fundraiser, but she had her sights set on Qdoba. In fact, she describes these emotions in "exile," singing "I think I've seen this film before, and I didn't like the ending." She foresaw the toxicity of the late night dinner debate emerging the second that the staff decided they were craving Mexican food. 
It is still a mystery as to why a ten-time Grammy Award winning musician would apply to work for a public school newspaper in the first place, yet she is not to blame. The Editors-in-Chief, as well as Henneberry, are ferocious animals who, when diagnosed with the hangry spells, allow for tremendous amounts of songwriting inspiration.
"The Bulldawg is the humor section of The Merionite. Here can be found satire and parody as commentary and critique on matters of interest to the school community. Articles posted on The Bulldawg should not be taken literally or viewed as representing truthful statements of the individuals or organizations which may be mentioned in the articles."
Leave a Comment