Aces on trial
LM Mock Trial tackles a state-wide competition via Zoom. They acted as lawyers, witnesses, defendants, and plaintiffs as they faced off against a variety of schools including Harriton.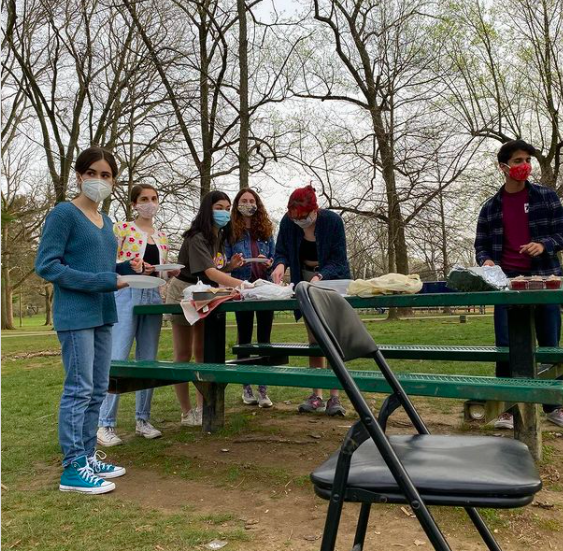 Logging onto Zoom in place of a courtroom, LM's Mock Trial team rocked the competition at their regional and state tournaments. Mock Trial is a nation-wide competition where teams of students reenact a court case, acting as lawyers, witnesses, defendants, and plaintiffs, in front of a judge and jury often composed of lawyers and other community members, who score the teams on their arguments, preparation, and ability to stick to court procedure. 
Starting in early February, LM began competing against other Montgomery County teams. "We competed against [Jack M. Barrack Hebrew Academy] in our… second round where we heard that there were 'the smartest people ever' on the team, so the defense team and I were really nervous," said Emily Shang '21, who is the club secretary and acts as a defense lawyer. Despite the trepidation, LM trounced Barrack with a score of 90.33 to 88.67, advancing to the Quarter-Finals on February 23. There, they went head-to-head with The Baldwin School and Jenkintown High School, beating Jenkintown and ensuring a spot in the semi-finals with Harriton, Baldwin, and The Haverford School. 
In a close final round, LM was able to overtake Harriton by a fraction of a point and secure a spot in the state tournament and the title of regional champions. "Although both teams would go [on] to the state tournament, it was exciting to see and compete against people we knew… being regional champs… seemed to me more special than qualifying for the state tournament," Shang noted, also adding that the victory was especially gratifying for the team's seniors after a challenging year of COVID restrictions.
The state tournament, held on March 26, brought together sixteen teams from across Pennsylvania, with the winning team going on to compete at the national tournament in Evansville, Indiana. This year marked the 38th annual Mock Trial tournament sponsored by the Pennsylvania Bar Association. In this competition, the teams were assigned the fictional case of The Estate of George Romero v. Ashley Williams, tasked with determining whether Ash Williams could be held liable for misleading their business partner, George Romero, into drinking a dangerous chemical passed off as a caffeine antidote, or if Romero's disregard for his own history of substance abuse and poor health would have led to his demise anyway. While ultimately the judge ruled against LM's prosecution and defense teams, and they did not qualify for state semi-finals, Shang was able to put the loss in perspective. "The two teams we competed against did not move on to the semi-finals either, which tells me that the competition at the state tournament must have been intense." As a graduating senior, Shang was happy to get some closure on the season, and added that the team's positive experience at the competition was an exciting and satisfying way to transition into spring break. 
Leave a Comment