Learning in the leaves
How outdoor learning benefits students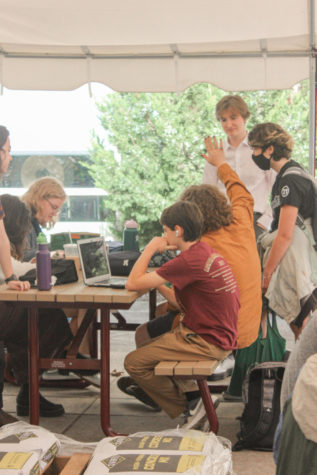 As high schoolers, we latch on to any sense of freedom that comes our way. During these past two school years, access to outdoor learning has been a part of this freedom. The school year is typically a stressful time where work continues to pile up, but sitting outside and enjoying the fresh air, even for a few minutes during the day, can be a reprieve from the pressure. Outdoor learning helps students improve their focus and provides a much needed change of scenery. Sitting outside in the courtyard during class or a free gives students the opportunity to find a secluded place to study. When asked about how she feels about learning outdoors, junior Annie Wackerman
said, "It really helps to keep the class interesting. I tend to pay more attention when I'm in a more comfortable setting. Also, it makes learning fun!" Like Wackerman said, students are more likely to perform better when they study and prepare in a setting that
allows them to feel serene. The ability to sit outside in the sun versus being stuck at a cramped desk is a perfect way for students to experience a new way of learning. Not only is learning outside a nice change of scenery, but it also allows students to bond with their classmates and form a strong relationship with their teacher. When a teacher gives students permission to sit outside, it shows that they trust the students to make good choices. A perfect way to stay in your teacher's good graces is to prove that you are responsible enough to maintain the privilege of learning outdoors. Junior Maya Silbert, looking back on English class last year, said "One Friday at the beginning of the year we sat outside and played a bunch of icebreaker games as a class. I think we all really connected with each other because we weren't thinking about work and it was just super fun. The connections carried on throughout the year." When sitting outside by the art wing or under the tents in the courtyard you almost forget that you're still at LM. The break from being inside the building is refreshing and important to the well-being of the students. Outdoor learning is a beneficial addition to LM's daily life and gives students the chance to pause and take a moment to relax.
Leave a Comment