Pumpkin spice specials
A review on Trader Joe's October seasonal foods.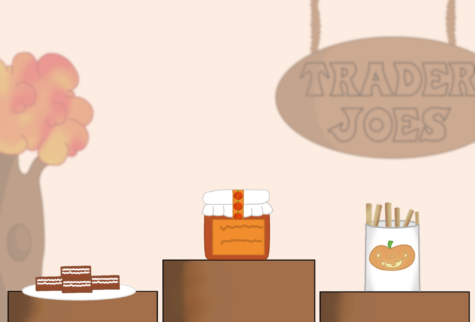 Trader Joe's is a grocery store known for its seasonal items and there is no shortage of delicious favorites this time of year. I tried all of the pumpkin spice flavored items just in time for fall. The first thing I tasted were the Pumpkin Blondie Brownies, and I have to say, they set the bar pretty high for everything pumpkin. Imagine pumpkin bread mixed with everyone's favorite baked treat. I do have a few critiques, though. I'm not the biggest fan of pecans, so if you're not a nut-lover like me, beware. They could also use some more icing. Overall: 8/10 
Next up, Pumpkin Spice Batons. If you are not a pumpkin spice fanatic, but still want a taste of fall, these are for you. They taste like vanilla flavoring, but as you keep eating them (and you will), the pumpkin spice flavor builds. Overall: 7.5/10
The Pumpkin Tortilla Chips were surprisingly good. They had just a hint of pumpkin, so you can eat them all year long. Without any dip or sauce, they're just fine, but I added the Lightly Spiced Pumpkin Spread, meant to go with meats and cheeses, and they were great. The pumpkin spread had an interesting flavor profile.It's like the jelly you would find inside of a hamantaschen for Purim, but pumpkin flavoured. I'd give the Pumpkin Tortilla Chips a 7/10, and the Pumpkin Spread a 6/10. Now, Pumpkin Flavored Joe-Joe's are a classic.The pumpkin spice flavor is just strong enough and not too overpowering. Overall: 9/10.
Here comes the Pumpkin Cheesecake. This one is a toss up. The crust on mine got a little soggy and gritty. It is worthy of some praise because the taste is pretty good, but the texture is where it loses points. Overall: 6/10. I want to preface this last one by saying that I don't drink coffee. If you do drink coffee, you'd probably like to dip the Pumpkin Biscotti in your coffee. Overall: 5.5/10.
Don't just take my word for it, go try some fun fall flavors at Trader Joe's! The only thing I felt like was missing was a fall-themed cookie butter– let me know if you find one, or if you try any other heavenly autumn snacks. 
Leave a Comment