Only one full month into the new year, LMSD is already taking great leaps to solve an ongoing issue: changing school start times. On January 23, during the monthly Regular Business Meeting, the Lower Merion School Board approved a resolution aiming to progress investigations and engagement opportunities related to healthy start times. The most significant aspect of this unanimous decision, however, was the establishment of September 2023 as the targeted implementation date for new start times. This marked a huge development in LMSD's commitment to ensure the health and wellness of its students.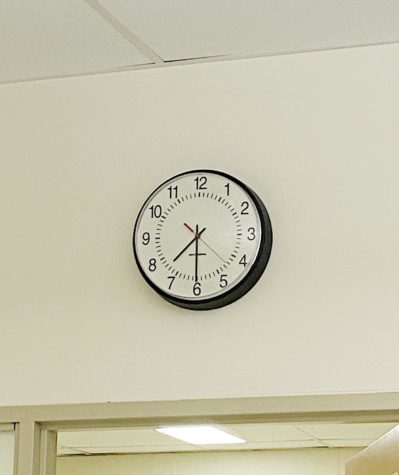 As recommended by medical organizations, such as the American Academy of Pediatrics, adolescents should be receiving eight to ten hours of sleep per night, making the current 7:30 a.m start for LM and Harriton students incompatible with an adequate amount of sleep. Due to these findings, LMSD began to seriously look into changing school start times in 2019, with more recent activity beginning in 2022. Within these last few years, several potential plans of action emerged and were discussed by
the Research and Development Committee and the Sleep, Health, and School Schedules Advisory Committee. One of these proposals, called the Modified Re-order, was presented in 2019 and consisted of a three-tier schedule, starting elementary school first at 7:45 a.m, then high school at 8:25 a.m, and finally, middle school at 9:05 a.m. Currently, a different proposal, known as the Secondary Swap, is moving forward, which places middle school in the first tier from 8:00 a.m to 2:50 p.m, high school second from 8:40 a.m to 3:30 p.m, and elementary school third from 9:20 a.m to 4:20 p.m.
During her presentation at the January board meeting, Acting Superintendent Megan Shafer emphasized the necessity of finalizing a schedule that best suits as many members of the LM community as possible, also acknowledging that there will be trade-offs and obstacles. For instance, some express concern over the potential negative impact that the Secondary Swap could have on middle school adolescents' health, since it shifts their start time fifteen minutes earlier from 8:15 a.m to 8:00 a.m. This especially worries some Black Rock Middle School parents, who claim that their children already have to wake up before 7:00 a.m to make it to their bus on time. As a result of the discourse surrounding sufficient sleep for middle school students, some school directors and LMSD community members urge the reconsideration of the Modified Re-order plan, which would switch middle school to the third tier and elementary school to the first tier. Those in support of this solution argue that younger students tend to be more awake at the earlier hours of the day compared to adolescents, and having an early start time for elementary schools may also eliminate early morning child-care needs for certain families. Elementary school parents went on to mention that a start time as late as 9:20 a.m may harm students who rely on early-morning school breakfast. Though, as explained by Shafer, there are also trade-offs associated with the Modified Re-order, noted by various other members of the school board.
By placing middle school in the third tier with the latest end time, it may limit the ability of these students to participate in various after-school activities. In fact, later start times also receive pushback due to the impact they have on student athletes and their ability to practice outdoors, as evenings become darker earlier in the fall.
Transportation and staffing implications also seem to play a major role in finalizing a plan for new start times. The district is currently facing a bus driver shortage, which could potentially be exacerbated by delaying school start and end times. Particularly, the Board mentions that planning must take into consideration the effect that new schedules will have on the bus driver workday and compensation, especially if late buses will continue to run. In terms of staffing, questions arise regarding how teacher contracts may change due to a ten minute increase in the day for elementary schools and a twenty minute decrease in the day for high schools, according to the Secondary Swap model.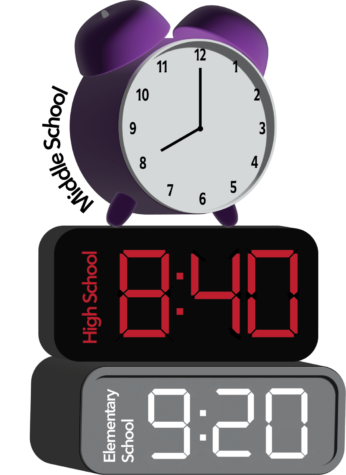 In spite of the many challenges, the Board is committed to finding compromise and moving into a healthy future. Shafer explains, "LMSD has addressed the 'if:' The Lower Merion Board of School Directors is committed to making a change that will benefit our students. They have targeted September 2023 as a goal for implementation. The question of 'how' we do it often leads to debate about the best way to maximize the beneficial impact." One method being utilized to ensure the success of the September 2023 implementation is the collection of surveys from students, staff, and community members. District residents are also encouraged to voice their opinion on the topic via email ([email protected]) in the coming months. Additionally, the Board plans to hold various engagement forums to educate the public on the Secondary Swap proposal and the importance of healthy start times. Nearby school districts that have already installed healthy start times, such as Radnor School District, also provided LMSD with references to help its transition into new schedules. Communication between the Board and the public will play a major role in the success of new start times, so Shafer advises, "please share your voices with us – it matters!"
Individuals across LMSD agree that sleep deprivation is detrimental to students' physical and mental well-being. Dylan Spivak '24, an advocate for later start times, comments, "I am extremely excited for the long, overdue implementation of the school start times. The mental and physical health of our students are finally being prioritized. The effects will be immediate and evident." Fortunately, with major developments underway, it seems new beginnings are approaching in 2023.