Fall-ing for these new looks
Come learn about some of the new fashion trends of this fall!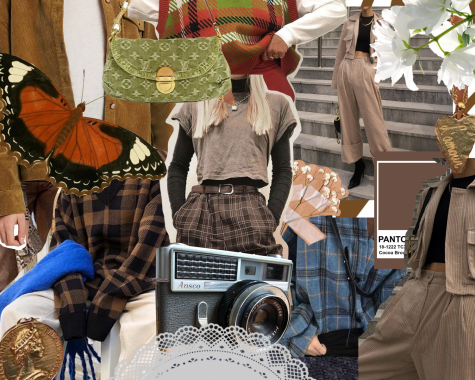 With summer gone and colder weather upon us, fall brings a new selection of outfit ideas and fashion trends. From outerwear and accessories to new patterns and layering opportunities, there are a lot of styles and clothes to dive into!
First let's talk about some fall outerwear favorites. Corduroy jackets are a retro, but iconic fall fashion piece that will keep you warm while also giving you a vintage-inspired look. These pieces can be layered on top of almost anything. The bomber jacket is another bold, vintage fashion choice. These jackets can easily be paired with a sweater and casual pants for a dressed down look. Cardigans and knit sweaters are fall loungewear essentials. They are cozy, cute, and perfect for staying inside or going out.
There are many different fabrics and patterns to explore this season. The most popular and timeless one, denim, comes in almost every type of clothing: jackets, pants, coats, dresses, etc. Favorite denim trends at the moment are mom jeans and denim on denim. Not to mention, denim's heavy weight makes it great for the chilly weather. Leather is another fall basic that is most commonly worn as pants and jackets. Leather jackets are great for transitional dressing and layering, and leather pants can be dressed up or down. Of course, we can't talk about fall fabrics without including flannels. Flannels are a fall statement, and there are so many great ways to style them, including over hoodies and undershirts. My all-time favorite fabric, however, is faux fur. It comes in comfy styles like robes and hoodies that you can wear to school, around the house, or just to relax in. It also comes in jackets and coats with different patterns and styles and can be worn for almost any fall occasion.
One of the most dominant trends this fall, and my favorite, is layering. It's the perfect way to keep warm without sacrificing style. There are many ways you can layer clothing, inducing a tank top or t-shirt over a long sleeve, a skirt over tights, a cardigan underneath a jacket, and a long sleeve top underneath a vest. You can also layer a scarf over any outfit. Scarfs are a comfortable, but still chic fall accessory to keep you warm. Wrapping a sweater around your neck for extra layers also adds an effortlessly cool look. The last fall fashion we need to talk about is boots. They range from chic and stylish to comfy and casual. The most popular ones right now are chunky rubber boots, lace ups, platforms, combats, kitten heels, and faux fur boots. Boots are perfect for almost any occasion, especially chilly fall days.
So, while we all might be missing bathing suits and the beach, the cooler days of fall bring with it many more opportunities to show off your more fashionable self.

Leave a Comment