Sup, it's Ye
Get the inside scoop on Kanye West's new album titled Donda. 
In the midst of Kanye West's (now referred to as Ye) spiral, he released his eleventh studio album, Donda 2, a sequel to his previous album, Donda. Donda 2 is unlike any of Ye's previous albums, in that it was released exclusively through Ye's Stem Player audio device. The Stem Player is a $200 handheld circular device that allows users to split any song into stems, isolating drums, vocals, bass, and samples. Ye announced that songwriters and music creators are hurt by streaming platforms such as Apple Music and Spotify due to them only paying them as little as a cent per stream. As one might expect, many of Ye's fans were disappointed when they discovered that the only way to access the new album was through an expensive device. But while paying this kind of money for an album may seem absurd to the majority, thousands of Ye's loyal fans purchased the Stem Player in anticipation of the album. Ye claimed to have made over $2.2 million in Stem Player sales in the 24 hours following his announcement. The album currently features sixteen songs, four of which were released February 23 and the remaining twelve the day after. Additionally, Ye posted a tentative tracklist before the release of his album, including six more songs that could be added in the near future. 
The biggest event leading up to the album was Ye's 'Donda Experience' in Miami on February 22. Pluto, which takes 248 years to complete one full cycle around the sun, made its first-ever Pluto return to the United States on this palindromic date. It is the first and last Pluto return that anyone in our country will experience in their lifetime. Astrologically, a Pluto return signifies the end of an established hierarchy and the dawn of a new era. Ye, who publicized this event  through his Instagram story, used this date to his advantage. Pusha-T, Migos, Jack Harlow, Fivio Foreign, and Alicia Keys are among those who appeared during the event. Ye, facing serious backlash himself, brought out other controversial artists, Marilyn Manson and DaBaby. The event was just as controversial and chaotic as Ye himself. While many fans were disappointed with Ye's performance and what seemed like a cult convention, others thought it was a step-up from his previous listening parties. 
Millions of people, ranging from young teens to adults, follow the rapper's manic cries for help with a bucket of popcorn in hand. With all of the contention surrounding Ye's relationship status, mental health, and alarming Instagram posts, it seems that Donda 2 could not have come at a better or more interesting time. Although the album is not able to be enjoyed by all of the millions of Ye fans that have stayed loyal throughout his extreme highs and lows, they can likely assume it's just as great as his previous albums. Whether you enjoy his music or not, it is a fact that Ye has been a leading influencer in the music industry for almost a decade and is regarded as a musical genius by most.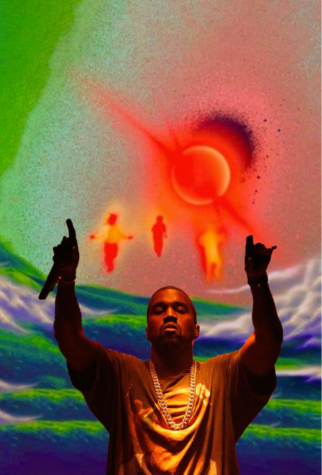 Leave a Comment