Fall into festivities
Autumn festivities were held on October 8th in a creative and fun way.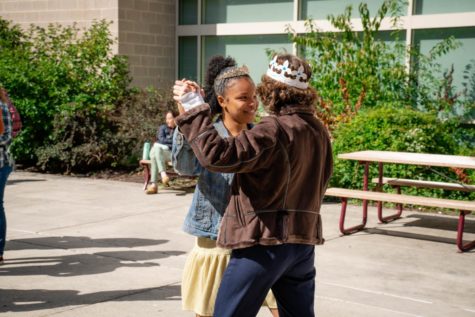 Fall Fest, a day of celebration for music and the arts of LM, took place on October 8. Its goal was to expose the community, especially elementary school students, to the arts of LM. At the forefront of the event was Jessica Villante (the organizer), Players, the rest of the music department, and BuildOn. Together, they hosted numerous activities in hopes of inspiring kids to pursue the arts. During Fall Fest, the music department had student musicians travel around and play their instruments in vari- ous parts of the school. This allowed kids to get an engaging and intimate experience with instruments and live mu sic, which can be absolutely life changing.
In the spirit of Disney's Beauty and the Beast, Players curated events for children (and adults) to enjoy. Their face painting station was a hit, and a big group of smiling kids lined up in the atrium to participate. As a way to get kids interested in live theater and to promote their show, Players hosted a sing along to "Be Our Guest," a beloved show tune. These activities filled the halls with even more musical cheer. Fall Fest ran like a well oiled machine thanks to the amazing BuildOn volunteers. By guiding people through the school and answering questions, they allowed members to present their work without worry. It is imperative to the future of the arts that communities show off their music to the younger student community. Fall Fest helped to expand the range of audience for the music of LM. With events such as Fall Fest, children are able to be introduced to live music and performances and thus the value of the arts.
Leave a Comment