Staying connected amid COVID-19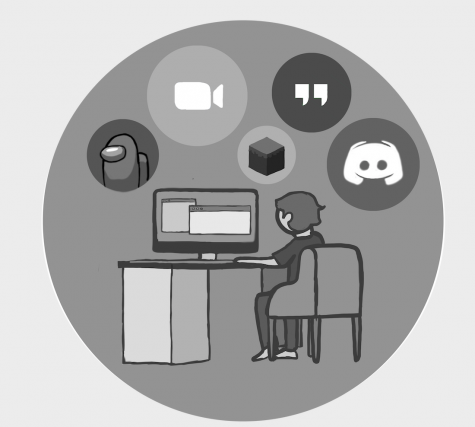 Even during the pandemic, many LM students have found creative ways to communicate and have fun with their friends. Whether it be through FaceTime, Google Hangouts, Discord, Zoom, or party video games, it is safe to say that with modern technology it's easy to remain social in times of isolation. 
Last spring, some students stayed in touch via Minecraft servers. Minecraft was the perfect game to play during quarantine because there are simply no limits. Alumni Asher Goodwin '20, created one named "CoronaCraft" with a few of his friends. "I didn't really know what the server would become until a large amount of people started playing, the majority of them LM students," said Goodwin. "I've been playing Minecraft since I was a child and every time I come back to the game, it triggers a deep sense of nostalgia." The server served as a platform to bring students together to pass time, with up to 25 people on at once.
LM students were even able to watch the morning announcements from home. Alumni Joe Plavin '20, an iconic figure of the morning programming, had been livestreaming on Instagram to broadcast the content that many would have looked forward to on a typical school day. "Doing the announcements was one of my favorite things to do at school, so when school was cancelled I was really disappointed," he said. "The response from everyone both touched my heart and motivated me to do them daily. I've heard from a couple people that they look forward to it as a highlight of their day, and although they may be being hyperbolic it meant so much to me." 
Currently, many LM students enjoy video chatting with their friends. Just as if they were speaking in person, various platforms allow students to see and hear each other no matter the distance. To abide by social distancing, this activity has become something that many LM students reported using more often during quarantine. FaceTime is a popular option if students wish to communicate with one another, as is Zoom which can fit many people in a meeting at once. Alternatively, some prefer using Google Hangouts or Discord, which have call and chatting options. "Google Hangouts is very convenient for a number of reasons. Firstly, it is included when you create an email and can be accessed from many devices," Anika Xi '23 comments. "This makes it really easy to communicate because I use my email on a day-to-day basis, and with the Hangouts function I can also use it for instant messaging with friends." 
"Discord is the best method of communication," disputes Aiko Palaypayon '23. "You can have stable voice and video calls with your friends. I've made group chats with people in my classes to make sure we all get our tasks completed." She also enjoys the customization aspect of Discord; for example, you can change your status by adding a written description of anything, which is visible on your profile.
Students have also used these video call platforms to play online party games with each other. Games like Among Us, One Night Werewolf, Resistance, Fall Guys, and Jackbox Party Pack are popular options among LM students. David Liu '23 mentions that Among Us, a multiplayer game in which crewmates must work together to discover the impostor among their group is a, "great game to enhance your problem solving skills" with friends. Harper Segal '21 enjoys Jackbox Party Pack, which comes with multiple party video games. One person streams the game on a computer, which every other player will then connect their device to using a code. Segal's favorite game mode is Quiplash, where two players must anonymously face off in writing funny answers to questions while the other players vote for what they deem the funniest answer. "Playing Quiplash with friends is always a blast," he says. "My friends and I laugh so hard that our stomachs hurt sometimes." With friend groups often not being able to play games in person, it's clear why many party video games are so popular right now.
Even during a pandemic, LM students have come together through the internet. Despite friends not being able to see each other face-to-face as often as we used to, technology has made this unprecedented situation a bit more bearable.
Leave a Comment